myFCI - it's more than online banking!
What is myFCI?
myFCI is more than online banking – it provides an all-in-one portal for members to review an account summary and interact with FCI.
When you enroll in
my
FCI, you will gain robust and flexible features that include:
myONLINEBANKING
Access an interactive online banking tool to make payments, transfer money, and view historical transactions, bills, and statements (must be enrolled).
myACCOUNTS
Review accounts to check balances and upcoming payments.
myMESSAGES
Easily exchange secure messages with your loan officer, crop insurance agent, or support staff.
myCONTACTS
Build your Rolodex of Farm Credit staff. myContacts is automatically populated with contact information for your loan officer and crop insurance agent, and growing any time a secure message is sent or received.
myDOCUMENTS
Access current and past statements, bills, and tax documents.
Request access to myOnlineBanking any time after creating a myFCI account or anytime after your myFCI account creation. Once enabled, members can also download the Farm Credit Illinois mobile app for on-the-go convenience. The mobile app is currently only accessible for myOnlineBanking users.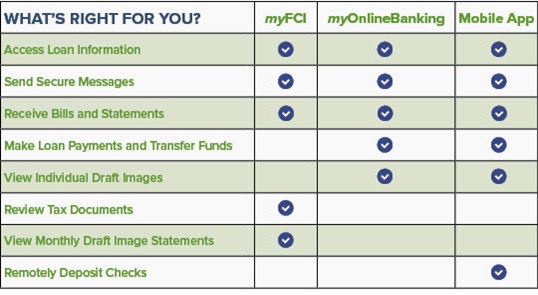 Please contact your local regional
office
or email
online.support@farmcreditIL.com
if you have questions.