How to Find Your Competitive Edge through Learning Opportunities
April 28, 2017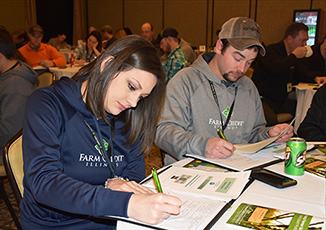 Embracing knowledge and new information provides today's farmers with a competitive edge. Farm family businesses exhibiting resiliency through both the prosperous and challenging cycles of the ag economy value and prioritize lifelong learning, according to Dr. David Kohl, professor emeritus at Virginia Tech University, who recently facilitated the 2017 Young Farmer Retreat hosted by Farm Credit Illinois.
"Finding time in the daily hustle and bustle can prove challenging, but those who take time to invest in their own professional development more quickly adapt in an ever-changing environment," says Dr. Kohl. "Take advantage of educational opportunities whenever you can."
Husband and wife Matt and Lauren Meyer, fifth generation Clinton County grain farmers, have done just that by attending the Young Farmer Retreat – an annual two-day Farm Credit College educational workshop that provides young farmers an opportunity to learn, share, and network with peers.
"A lot of the information – like the four cornerstones of management success – that Dr. Kohl shared will help us start conversations on our own operation," says Matt. "Five years ago I finished college and came back to farm with my father and grandpa. I'm interested in finding our competitive edge while getting more skin in the game."
"As a young farmer, it's important to make plans with the older generations running the business," says Dr. Kohl. "The four cornerstones of management are creating a plan, strategizing, executing, and monitoring your performance and progress."
And using the four cornerstones, in combination with the rest of Dr. Kohl's ten practices producers can use to capitalize on opportunities, will guide the Meyers as they take on more management roles on the farm.
Ten Ways Farmers Can Seize Opportunities in Today's Ag Economy:
Apply the four cornerstones of management – planning, strategizing, executing, and monitoring your business means continuously looking forward while remaining agile when new opportunities arise
Establish goals and write them down – 80 percent of individuals don't have goals, 16 percent do but keep them in their heads, while only four percent write them down. Research shows those who write down their goals are more likely to hold themselves accountable
Invest in productive capital and human assets – the great economic super cycle was a magnet, attracting both productive and unproductive individuals and possessions; consider liquidating non-income producing assets (land, machinery, or human) and develop specific responsibilities and accountability measures for all personnel
Adjust family living budgets to reflect changing income – family living budgets that expanded during more profitable times should be re-evaluated to mirror changing incomes with all family members involved
Find a mentor/mentee relationship – the exchange of ideas and philosophies with a good set of mentors with different business experiences and life skills may energize management decisions
Tap into a team of advisors – meet with a trusted team of advisors, like your local Farm Credit professional, who are less emotionally invested in the business to glean fresh perspectives, creative solutions, and access to tools such as FCI's sample cash flow and business plan templates
Think better is better, before bigger is better – Pursue operational and financial efficiencies and fine-tune management capabilities before focusing on growth
Learn from new experiences – networking, educational activities, and travel in and outside of the United States provide exposure to new, valuable ideas and relationships
Remember cash is king – volatility in the industry is creating tremendous opportunities for success or failure; producers with cash and liquidity maintain playing power when facing unexpected business opportunities or expenses
It's good to sweat the small stuff – examine each component of your business to determine its draw on the operation to make it clear which endeavors need to be re-evaluated to maximize profitability
While the Meyers are better equipped to start the transition to a larger role in their family farm business, they know they will face hard times as the economic reset continues. However, proactive planning and objective assessment can help them stay out of the red, according to Dr. Kohl.

"The senior generation should allow young producers to experience the rewards and consequences of financial decision-making in their early years," he says. "It's important for the young generation to create and execute their own plans to learn from mistakes and better understand the management skills needed to run a successful business."

Sign up for upcoming Farm Credit College programs today.