Get to Know Taryn Wolf – FCI Country Living Lending Team Member
August 1, 2019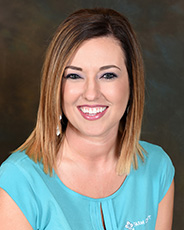 Taryn Wolf of Mahomet began Aug. 1, as a Rural 1st® consumer loan officer based in the financial cooperative's Effingham regional office. She provides a wide range of financing products – including home loans, construction loans, lot loans, and recreational land loans – designed specifically for rural living in southern Illinois.
What interested you in a career helping people make the move to Rural America?
For the past 10 years, I proudly worked for FCI, Helping Farm Families Succeed. We serve many segments of agriculture, whether helping young farmers begin or seasoned growers retire.
Today, I look forward to helping others find their place in the country through Rural 1st. I was raised in Newton and live there still because of the sense of belonging in a tight-knit community. To me, the small-town life cannot be beat.
What prepared you for this role?
I was raised in Jasper County and graduated from Newton Community High School before receiving associate's and bachelor's degrees in business management from Lake Land College and Eastern Illinois University, respectively.
Share
Download