Get to Know Michael Plunk – Mahomet's Newest Team Member
May 20, 2019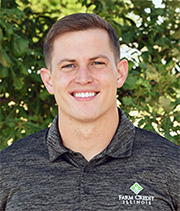 Michael Plunk of Mansfield began May 20, as an assistant vice president of lending in the Mahomet regional office, specifically serving Douglas and Piatt Counties. The Mahomet office serves farm families and rural landowners in Champaign, Douglas, Ford, Piatt, and Vermillion Counties.
What do you value most about living and working in Rural America?
I was raised on my family's Piatt County grain farm and graduated from Blue Ridge High School. My family has worked closely with FCI for many years, which is an example of the close-knit community there is in the agricultural industry.
From where did you graduate college?
I graduated from the University of Illinois at Urbana-Champaign in May with a bachelor's degree in agricultural and consumer economics. I transferred to UIUC from Elmhurst College, where I played basketball for two years.
After one year as an FCI intern based in the Mahomet central office before graduation, I am excited to begin my career working with farm families.
Share
Download