Technology & Information Protection: Holiday Season Watch Outs
December 8, 2020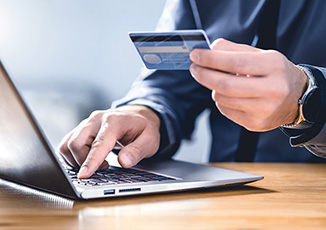 With online shopping expected to make up most gift purchases, it's important to be cautious this holiday season. Whether attempting to steal packages off your porch or your information online, following these tips will protect you from scams and keep your holidays bright.
Cautious Comparison
When shopping for deals, be sure the cheapest option is offered by a legitimate company. If the price seems too good to be true, the product could be a counterfeit or in used condition. Read item descriptions– especially the fine print – to ensure you are purchasing the correct item.
Before transacting business, look for indicators that the site is secure. Ways to confirm the website is safe include looking for a padlock icon next to the URL or a URL beginning with https (the "s" stands for secure). While these precautions are not foolproof, they may keep you from purchasing items from a company putting up a false front.
Don't Let Your Guard Down
Once you've purchased an item, beware of fraudulent shipping company contact attempts. Delivery companies such as FedEx and UPS will not request payment or personal information in order to deliver a package.
In general, be cautious when supplying your financial information. Email is not secure, so if a seller asks you to email your credit card, checking account, or Social Security number, it is likely a scam.
Don't trust emails with grammatical errors and misspellings sent by companies claiming to provide shipping services. Taking a moment to examine email or text messages may help you avoid a phishing scheme, which you can learn more about through the Federal Trade Commission.
Thoughtful Delivery
Finally, have your shipped items delivered to a secure place. According to a survey by Shorr Packaging Corp, 31% of Americans will have a package stolen after delivery. Consider leaving specific directions for the delivery company to leave your packages in a discreet location – instead of on your door mat. Thieves aren't likely to stop unless the packages are clearly visible from the road. Alternatively, have your shipments sent somewhere they can be brought inside immediately upon delivery.
If you become the victim of package theft, contact the seller as they may have insurance to provide you a refund. If the seller cannot resolve your issue, you may be asked to file a claim with the shipping carrier or to contact your credit card company.
For more information on shopping safely online, visit the Federal Trade Commission.