Connecting Consumers With Their Food
February 26, 2021
Jill and Chad Vonder Haar are passionate about connecting people with food. The family's farm in Clinton County produces beef, pork, chicken, turkey, lamb, and eggs available to consumers through an on-farm store, local restaurants, and farmers markets. Even as Chad works off the farm, the Vonder Haars hope to grow Main Street Pastures over the next 10 years.
"We're unique because we manage our product from start to finish." Jill says. "I enjoy getting to know the customers and building relationships."
Protecting the soil through regenerative agriculture practices is another important goal at Main Street Pastures, which has grown from 80 acres in 2010 to an additional 23 acres and an adjoining farmstead in 2014, thanks in part to a Farm Credit loan.
"We were concerned with the effects of erosion and nutrients washing down the ditch. We first turned to cover crops and now we're full no-till and raise cover crops for the cattle and chicken. It's all come full circle" Jill says. "It's really neat to see nature come back to the land. You can hear the bugs and see the butterflies flying around in the field. The land is recovering and regenerating itself and can hold water so much better."
Seeing an improvement in soil health is why Jill, 41, and Chad, 40, invest time attending soil and water conservation workshops, the National No-Till Conference, and programs on nutrient loss reduction strategies. They have also participated in Farm Credit Illinois learning programs on estate planning and farm financial analysis. The Vonder Haars grow corn, soybeans, wheat, barley and hay – supplying 80% of their own animal feed. While the farm has been their dream, family remains the top priority.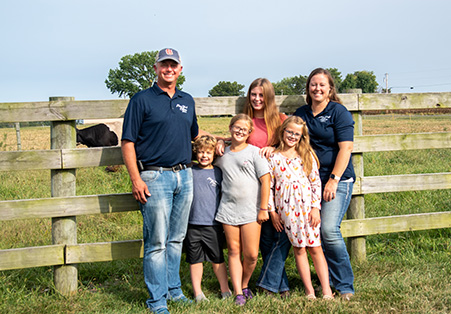 "We love farming because it's something we can do with our family. I was home with the kids from day one and helped Chad with his other business. As they've gotten older, they've been able to help us develop the farm," Jill notes.
Although selling farm products direct to consumer is their primary connection to the community, Jill gives back by serving on the Saint Rose Development Club and as the local school board secretary. Chad is on the Saint Rose Public Water Board and the family is also active at Saint Rose Parish. In the meantime, Jill continues focusing on her primary vision of caring for the soil and educating consumers about food production.
"One of my biggest goals is to connect people with their food source and help them realize there's a story behind every item on the grocery store shelf."