Setting Goals Key to Planning for the Future
February 22, 2021
Matthew and Melanie Schmitz understand the value of a good partnership. It's why they've been successful working together on the family farm in Monroe County.
"I would say we're the perfect balance," says Melanie. "He's an engineer. He does all the maintenance and a lot of the critical day-to-day operations. I'm the financial manager, keeping us aligned and finding ways to be more efficient."
When it comes to agricultural lending and crop insurance, Matt and Melanie share a strong partnership with Farm Credit Illinois and the FreshRoots young and beginning farmers program.
"I think it's a great program," says Matt. "There's a lot to take on when you're a young farmer. Participating in FreshRoots gives you more peace of mind when weighing options throughout the year."
Matt, 36, and Melanie, 33, both grew up on family farms and are currently working toward buying both operations, along with one owned by Melanie's uncle.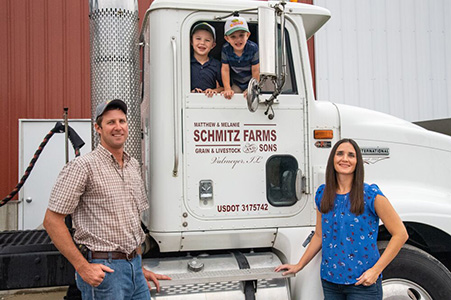 "Planning for the future isn't something that happens in a day. Our plans have been in the works for years," says Melanie. "You have to be strategic about it. We have to regularly carve out time to plan for our long-term goals and then approach them one day at a time.
Matt and Melanie farm in the Mississippi River valley, which presents challenges during many growing seasons. They've found it is important to maintain a diversified operation, including row crops and cattle. In addition, Matt owns an excavating business and Melanie is an accountant off the farm. Matt serves on two local boards and still manages to keep his eye on what's most important – a growing family.
"Since we have two boys and one on the way, I want to spend as much time with them as I can while putting time in the fields and with the cattle to make sure nothing falls behind on the farm," Matt says. "That's a hard balance."
Matt says having a partner like Farm Credit Illinois makes that balance more manageable when it comes to purchasing land, repairing or replacing equipment, and protecting their crops with insurance. At the same time, a greater perspective helps the Schmitz family to be thankful for all they have as they ride out today's challenges and set goals for the future.
"We're just optimistic. We've seen the worst of the worst," says Melanie. "I lost my house in 1993 – and our whole farm – to a flood. We learned to make the most out of what we have."