Striving for Balance On and Off the Farm
February 25, 2021
Balancing work and family life is important to Andy and Monica Schumacher, who farm in Cumberland County. The couple began farming with Andy's family in 2009 and took over farm ownership following Andy's father's retirement in December 2020.
"Push for your goals," says Andy. "There are plenty of ups and downs in agriculture. But when you have goals set, it's easier to focus on what's important."
The Schumachers work with purpose on their cattle and grain farm, where adding technology like GPS has created efficiencies during planting and harvest of their corn, soybean, and wheat acreage. They have also purchased farmland and built a new cattle barn for their Holstein steers.
In addition to farming, they maintain off-farm jobs. Andy, 35, works for a tiling company and Monica, 33, works in accounting at a local bank. Involvement in their church and volunteering at the local school and other community activities are also family priorities.
"Keeping a calendar helps us stay organized and allows us to find time for community involvement," says Monica. "We find giving back to our community is very important and enjoyable."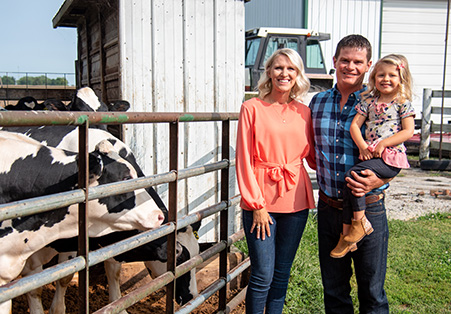 The Schumachers have benefitted from the support of Farm Credit Illinois as they meet one major goal of farm ownership and set new targets to strive for in the future.
"Farm Credit really cares about the next generation of farmers. It's great working with Farm Credit on the different aspects of the FreshRoots program," Andy says. "They want us to thrive and grow in our farming business and are there to help when a need arises."
The Schumachers have participated in Farm Credit learning programs on crop marketing, risk management, and farm financial analysis. But no matter how much the farm grows and changes, finding time for family including three-year-old daughter, Myah, still takes priority.
"It's important for us to balance work and life – especially now that we have a daughter. For us, success is about being with family more than financial worth," says Monica. "Having a full, balanced life is important."