Farm Credit Breaks Ground On New Taylorville Office
August 16, 2021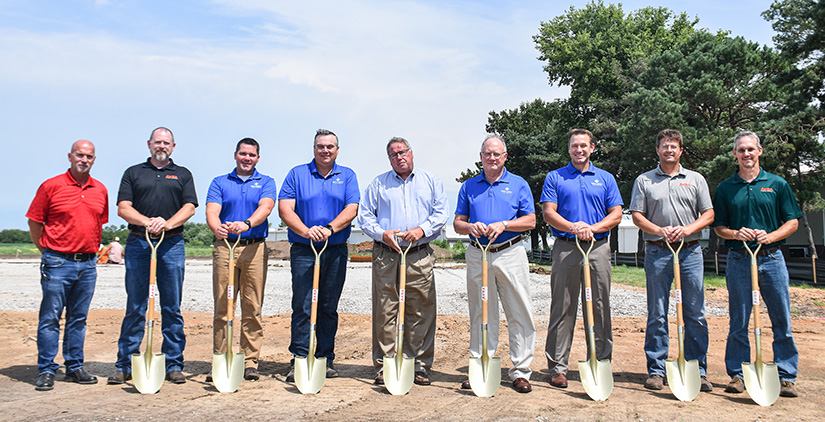 Pictured (L to R): Donnie Dill, AKRA Senior Project Manager; Troy Stanford, AKRA President; Adam Brown, FCI Director & Macon County farmer; Joe Pickrell, FCI Director & Sangamon County farmer; Bruce Barry, Mayor of Taylorville; Steve Carson, FCI Executive Vice President; Shaun Murray, FCI Chief Operating Officer; Jim Ramert, AKRA Vice President; Larry Moore, AKRA Project Manager
A groundbreaking ceremony was held Aug. 12 at the construction site for a new Farm Credit Illinois regional office in Taylorville. Following the demolition of the former Taylorville office at the same location in the past few weeks, construction of the new 8,500 square foot office is now underway.
Farm Credit Illinois directors, senior managers, and local staff were joined by Taylorville Mayor Bruce Barry and representatives of project contractor AKRA Builders, Inc.
The number of Taylorville staff has increased as their loan portfolio and crop insurance business continues growing. The new facility better positions FCI for continued expansion of in-office and on-farm services today and tomorrow. The Taylorville regional office serves more than 400 farm families in Christian and Montgomery Counties with $170 million of loan commitments and more than 80,000 acres of crop insurance coverage.
The new building will accommodate up to 15 staff members and provide meeting space for up to 50 individuals. In addition to FCI events, the meeting space will be available to the local agricultural community. The FCI Taylorville staff team will continue serving members at their temporary location at 919 W. Spresser Street and on farms during construction. The new facility is expected to be complete by summer 2022.
# # #
Farm Credit Illinois (FCI) is a farmer-owned and directed agricultural cooperative serving 16,000 farmer, rural landowner, and agribusiness voting stockholder members in the southern 60 counties of Illinois. Dedicated to Helping Farm Families Succeed, FCI provides competitive and flexible financing, crop insurance expertise, and Rural 1st® country life lending. FCI manages a $4.8 billion loan portfolio, sells 1.4 million acres of crop insurance coverage, and employs 244 staff based in the Mahomet headquarters and 14 regional office locations. The Association delivered additional cooperative value by returning $40 million of 2020 earnings as cash patronage to member-owners in 2021. The U.S. Farm Credit System supports rural communities, farm families, and agriculture with reliable, consistent credit and financial services today and tomorrow