Protect Input Investments with Customized Crop Coverage
December 3, 2021

Featured
The countless decisions farmers make before putting in crop can be daunting. From seed treatments to fungicide application rates and plant spacing to storage plans, farmers tailor each choice to the ultimate goals of the operation. These choices become even more critical with soaring input prices.
Farmers can customize their crop insurance coverage to fit their unique risk management plan and budget just like any other input. And FCI agents are here to help farmers confidently protect their input investments and create a bottom-line guarantee.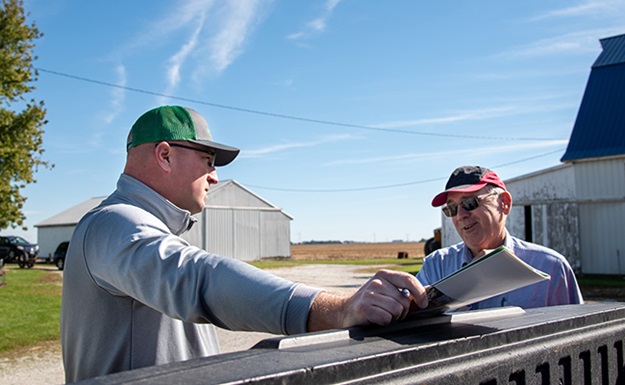 Multi-peril crop insurance (MPCI) products can be customized for each farmer's goals. Functioning as the backbone investment for most Illinois farms, MPCI products are available at varying coverage levels and on a county or individual basis.
In addition to MPCI, approved insurance providers (AIPs) offer supplemental options. These policies fill in coverage gaps and increase covered perils to include fire, crop hail, wind, prevent planting, replant, and early planting. Also available are banded and pricing products, and quality loss and enhanced coverage option endorsements. Unlike many independent agents, FCI works with four AIPs to ensure there's a supplemental option available to fit each operation's needs.
Farm Credit Illinois agents specialize in understanding the complexities of crop insurance and government programs. They help farmers select an appropriate mix of products – often a baseline MPCI policy coupled with supplemental options.
Considering Individual Scenarios
FCI agents present farmers with claim-triggering scenarios including the impacts of harsh weather, price volatility, and yield loss to help make these complex decisions – made more critical with rising input costs and insurance premiums. This proactive approach ensures coverage satisfaction regardless of what the crop year brings.
Mark Klemme of Iroquois County has relied on his crop insurance guarantee in multiple years outside the widespread weather events of 2012 and 2019.
"I've been in a flash drought pocket where the surrounding area still had a good crop, so prices didn't respond," Klemme notes. "It would've been a financial disaster without the protection crop insurance provided so we could keep farming into the next year."
"My agent and I annually discuss the coverage options available and how much revenue per acre I want to guarantee. He does his research and makes helpful suggestions on what would be a good fit for our operation."
Customized Coverage in Action
Farmers throughout Iroquois County have been adding a replant endorsement to their coverage with 4-inch rains often occurring during planting season. Because replant is a recurring trial for these farmers, many add this endorsement to their coverage.
Many farmers saw higher premiums in 2021. To maintain coverage levels and balance the increased cost of coverage, farmers throughout FCI's territory added a supplemental coverage option (SCO) policy on top of their baseline MPCI policy.
Creating Peace of Mind
Crop insurance coverage is the only input that creates a bottom-line guarantee. And as one of the lowest input costs per acre, crop insurance provides cost-effective peace of mind.
"Crop insurance protects our livelihood when the weather or prices don't cooperate," Klemme says. "You can sleep at night knowing that you're not going to lose your proverbial shirt."
Talk to your local FCI agent to customize your coverage to your farm's goals and rest easier knowing your operation is protected.