Bringing Efficiency and Sustainability to the Farm
February 8, 2022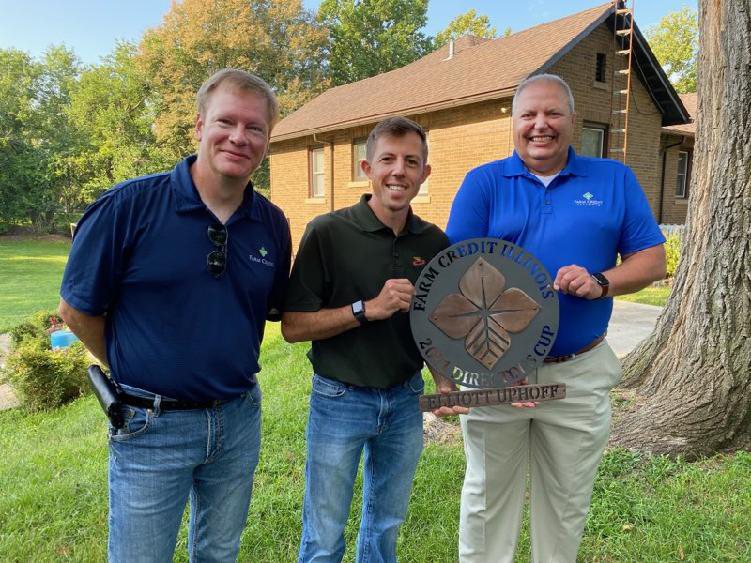 Elliott Uphoff, FreshRoots Directors Cup recipient of Shelby County at age 31, always keeps one word in mind when making on-farm decisions – efficiency. What some would define as sustainable agriculture, Elliott describes as leaving his farm ground better than he found it. From adopting no-till practices to planting cover crops, Elliott's nine years on the farm have been spent finding ways to grow more bushels with less inputs.
Prior to purchasing the ground, Elliott's conventional practices such as growing GM crops and tilling in both the fall and spring were in place. However, once he began farming full-time, Elliott began exploring different ways to operate that would save him time and manpower. No-till practices were especially appealing to him as there is less time in the field, fewer people needed to operate equipment, and less runoff from fields. In 2021, Elliott had 200 no-till acres across his operation. While he says some of his no-till fields produced a little less than his farm average in terms of bushels, those fields also had a lot less time and manpower spent on them.
"You have to look at it from a different angle than being the guy who raises the most bushels. It can take a while for the soils to change when you're going from conventional to no-till practices. You have to be patient and take the wins with the losses," said Elliott.
Along with adopting no-till practices as a way to use every acre to the best of its ability, Elliott also began planting cover crops like rye. He finds cover crops to be a notable solution for eroding fields. Cover crops can help hold soil together in spots that would typically experience surface erosion.
Also on the list of practices helping make Elliott's operation more efficient are technology and a different nitrogen application process. He credits Climate FieldView and variable rate fertilizer application as two technologies that help him improve his farms year-after-year. Elliott also applies nitrogen in the spring or summer instead of the fall to ensure the crops receive proper nutrients.
"In an industry that is constantly changing, you have to be willing to adapt and rethink the way you do things," said Elliott. "There's always something to learn."
While Elliott and his father share equipment and labor on their operations, they are not under the same umbrella financially. Elliott said this is where Farm Credit Illinois has been very helpful as a young farmer purchasing his own farm ground.
"Having my own ground has allowed me to adopt my own sustainable practices. With Farm Credit's help, I can treat my land the best way possible and pass it onto my kids someday in better condition."