Meeting Demand Through Entrepreneurship
February 8, 2022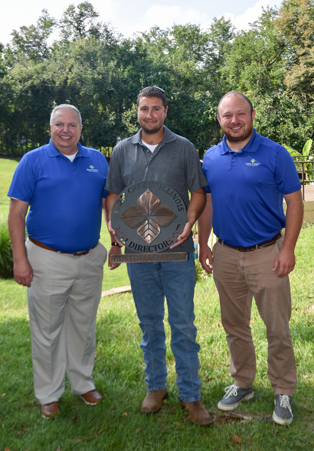 Austin Ellison, FreshRoots Directors Cup recipient of St. Clair County at age 24, goes above and beyond row crop farming with his father. Austin began farming six years ago and, within that time, has successfully launched two businesses – a haying operation and excavation company.
What began as a joke when Austin's neighbor stepped away from their haying business quickly became a reality that grew bigger and faster than ever imagined. Three acres of hay to feed his own horses quickly expanded into a 24-acre haying operation serving local clients. He went from trading labor for borrowed equipment to now owning every piece of hay equipment he needs.
Demand drove the boom in Austin's haying business. Harder-to-find square bales are much more labor intensive than round bales. While a strong market for his product exists, Austin discovered there is a lot more to running a business than field work. He has to market his product, understand customers' needs, gauge weather conditions, and much more. According to Austin, the ability to communicate with customers is just as important as the ability to drive a tractor in this business.
Over the years, Austin has tried out several diversified crops in his haying business including alfalfa, grass hay, rye grass, and oats. He enjoys experimenting with different forages that provide a cover over the ground in the winter and reduce erosion. He also appreciates reaching a wider variety of customers by offering an array of products.
In managing his excavation company, he wears many hats including operator, mechanic, engineer, and public relations specialist. Austin M. Ellison Excavation came to be when he worked for a tiling company and noticed a pattern at several of the job sites – excavation work was always needed. After extensive research, Austin began his company in 2019 with local clients and slowly expanded as he purchased more equipment with Farm Credit Illinois' help.
"The FreshRoots program through Farm Credit is something that's really unique and has helped me a ton. You can't go to any regular lender and expect them to loan you money or have workshops that cater to the needs of the younger generation," said Austin.
While Austin says Farm Credit has been a great help in terms of providing operating lines and a lender rooted in agriculture, he also commends the cooperative for hosting learning workshops. The programs allow him to network with peers and Farm Credit employees, as well as stay fresh on tools that will help him in the management of both operations.