One Rate, One Loan, One Dream
April 5, 2022

Featured
The Shooks of Champaign County dreamed of purchasing a two-home country property that allowed for multigenerational living. When the opportunity presented itself, they turned to Rural 1st® to bundle their complex property into one long-term loan, under one fixed rate.
"We searched for a property that would allow multiple generations to enjoy the comforts of a rural community," remembers Kristi Shook. "This investment puts everyone in close proximity, allowing us to make more memories in the everyday moments."
After starting their purchase process with a local bank, the Shooks faced challenges with zoning, acreage, and a shared well agreement for their two home, 10-acre property with a pond. The lender wanted to separate the homes and acreage into separate loans since properties of this kind are not eligible for the secondary market as part of one loan.
"We didn't realize how many hoops we had to jump through," Kristi says. "We saw the property as one piece, not multiple. As soon as we discovered Rural 1st, all of those barriers went away."
Rural 1st is the leader in rural lending and offers products most traditional lenders cannot –including fixed rate loans with as little as a 15% down payment with no private mortgage insurance (PMI) required. And even if the home is attached to acreage, outbuildings, or a pond, Rural 1st can provide financing that fits your needs. The Rural 1st team understand the complexities of country lending because that's their specialty.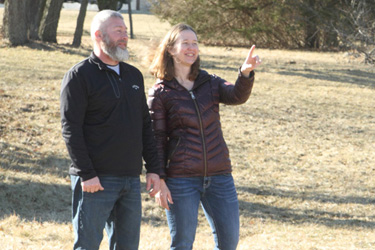 "When approaching Rural 1st, they took time to understand our country property's underlying value. They asked questions about my family and our dreams for the property. From day one, we no longer felt like there were boundaries," says Kristi.
For many, country living is getting Closer to What Matters most – like family, fresh air, and nature. In addition to country home loans, Rural 1st also provides financing for rural construction, lots, and recreation land. No matter what life in the country looks like for you – Rural 1st has the financing to make it happen.
"Often people think of rural families as farmers. But it's not just about cattle, corn, and beans – it's being together with space to do what you want. For us, that's fishing, bonfires, and being near one another," notes Kristi.
Contact your local Rural 1st loan officer to get Closer to What Matters.
*A $200,000 loan would require a 15% down payment with a monthly principal and interest payment of $1,149.42 for 360 months based on 5.61% annual percentage rate (APR). Assumes $4,500 in closing costs. Monthly payments do not include amounts for taxes and insurance premiums so the actual monthly payment will be greater if an escrow account is established. Available rates and terms including the APR are subject to change without notice. The APR is based on the best available interest rate as of 04/04/2022.
Rural 1st® is the tradename and Rural 1st, the Rolling Hills Window icon, Rural Logic, and Closer to What Matters are exclusive trademarks of Farm Credit Mid America, NMLS ID 407249. Rural 1st is also available to consumers within the territories of participating Farm Credit System Associations, including Farm Credit Illinois NMLS ID #1844469.