Meet John & Kiersten Schoen of Red Barn Farm Meats
October 5, 2017

John and Kiersten Schoen of Madison County always sold meat to their friends and family. After Kiersten lost her job, their side gig turned into a full-fledged, money-making business – Red Barn Farm Meats.
Named after the iconic red barn built by John's great-grandfather in 1898, the Schoen's farm gives a nod to traditional practices. Their beef is grass-fed and the piglet nursery has open bedding. Their three children – Rhett, Luke, and Leni – help with the chores, maintain fences, and much more. And like past generations, their sales are driven by word of mouth – the digital kind – through social media.
"It's cost-effective and that's where people's eyes are today," says Kiersten. "We have our own campaign, #HowDoYouRedBarn, where we encourage families to snap a photo of their meal to generate conversations and share recipes."
Red Barn Farm Meats isn't just catering to their target audience online. Everything from packaging to flexible delivery and service hours provides families with confidence in the product they are purchasing.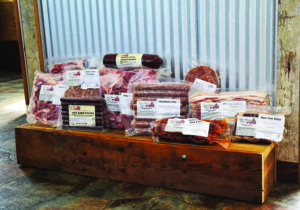 "Many customers come out and ask where the meat came from," says Kiersten. "I say, "Let me open the door and show you." We can tell you more than you want to know about the contents of each package because the animal was grown here on our farm from 'womb to tomb' and that's pretty unique."
But in order to open that door and show where and how the Schoen's animals are raised, customers first have to get out to the farm.
"One of the hardest things for us is getting people to think outside the box," says Kiersten. "Instead of just going to the grocery store to pick up meat with everything else, we have to get them to break routine and come to us."
Now that they've had enough customers make the trip, demand is increasing, which is allowing them to expand their market into local restaurants and groceries. But to meet the need, the Schoen's also have to increase the number of animals they raise. That's where their partnership with Farm Credit Illinois comes in.
"It takes a long time to recoup your investment in agriculture – 20 months for beef cattle to mature and seven months for a hog," says John. "We wouldn't be able to grow this business without cash flow and Farm Credit has given us the financial support to be able to do just that."
Learn more about Red Barn Farm Meats in their profile on the Farm Fresh Members Market.