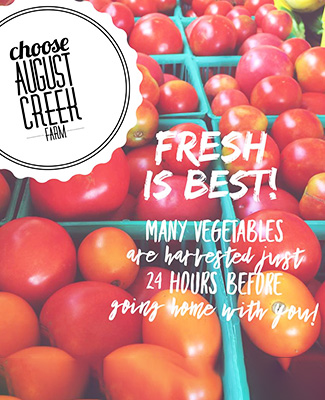 August Creek Farm

1414 N 2400 East Rd.
Assumption, IL 62510

Hours of Operation:
18 week CSA Program
mid-May to Mid-September
Weekly pickups in Decatur,
Taylorville and at our Farm
August Creek Farm
About us
August Creek Farm is located on two acres of a homestead that has been in our family for over 30 years. Here at August Creek, we use organic farming methods in order to bring our customers and farm members the highest quality of produce. Visit our website or Facebook page for more information.
Products we sell
August Creek Farm offers as many as 30 different crops throughout the 18 week CSA season. Examples include spinach, kale, garlic, cucumbers, tomatoes, squash, herbs, radishes and more. Check out our website for examples of the shares you'd receive throughout the season.
---