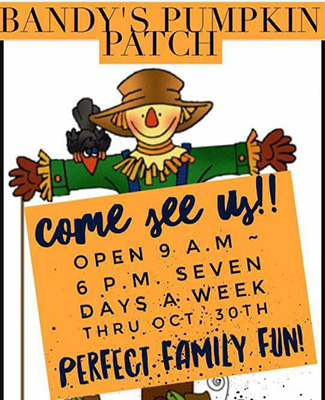 Bandys Pumpkin Patch

15020 Pumpkin Patch Rd
Johnston City, IL 62957

Hours of Operation:
Daily 9:00 am - 6:00 pm
September 15 - October 30
Bandy's Pumpkin Patch
About us
We're open daily 9:00 am - 6:00 pm from September 15 through October 30.
Our picnic areas offer the perfect setting to enjoy the fall weather.
Visit us for a day of family fun featuring a 10-acre corn maze, hay rack rides, and kids' play areas in and outdoors.
Please contact us to book field trips or private parties.



Products we sell
Find handmade gifts and pumpkins of all sizes in around the gift shop.
---