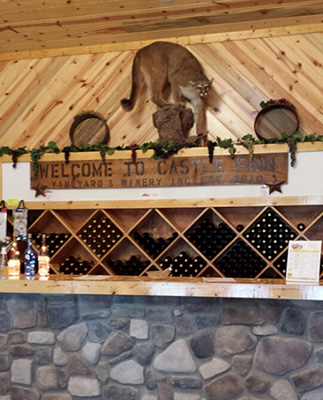 Castle Finn Winery

1288 N 1200th St.Marshall, Illinois 62441
Marshall, IL 62441

Hours of Operation:
Mon: closed or by chance
Tues: Noon - 6:00 pm
Weds: Noon - 6:00 pm
Thurs: Noon - 6:00 pm
Fri: Noon - 6:00 pm
Sat: 10:00 am - 6:00 pm
Sun: Noon - 6:00 pm
Castle Finn Winery
About us
Our winery sits on a beautiful open area with a pond, woods and vineyard located behind the winery. We offer 15+ varieties of wine ranging from dry to fruit sweet, and sparkling wines. Our wine ranges from 14.00 to 20.00 a bottle. Cheese & cracker baskets are available for sale or you can bring your own food, but please no outside drinks. We are kid friendly! In addition to wine making, we host events throughout the year from weddings, reunions, showers, and business events. If you have an event, we can make it happen!
Products we sell
We make and sell a variety of wines from sweet to dry. Visit our website for a list of our products and the states we ship to.
---