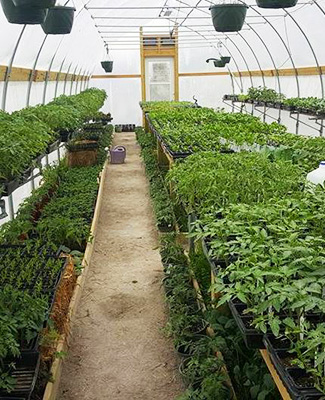 Wisely Greenhouse and Produce

183 S. Ayers Street
Oakdale, IL 62268

Hours of Operation:
At our Greenhouse -
mid-April through mid-May
Mon - Sat 9-5 and Sun 12-5
At our stand south of Oakdale,
mid-May through the end of
the season, dusk through dawn
Wisely Greenhouse and Produce
About us
In 2015, we started selling produce to our local community after our garden bore more than we could enjoy as a family. Now, two greenhouses and a handful of garden acres later, we are providing specialty and rare heirloom varieties of produce and flowering plants to families throughout our area. If you can think of it, we probably have it!
Products we sell
In early spring, we sell garden starter vegetable plants and flowers and hanging flower baskets. Once the produce begins to flourish, you can find almost any kind of summer and fall produce at our self-service stand including many specialty and rare heirlooms like more than 50 varieties of tomatoes, 25 types of peppers, herbs, eggplants, melons, sweet corn, pumpkins, and gourds to name a few.
---