Get Social with #MembershipPays
Contest Rules & Details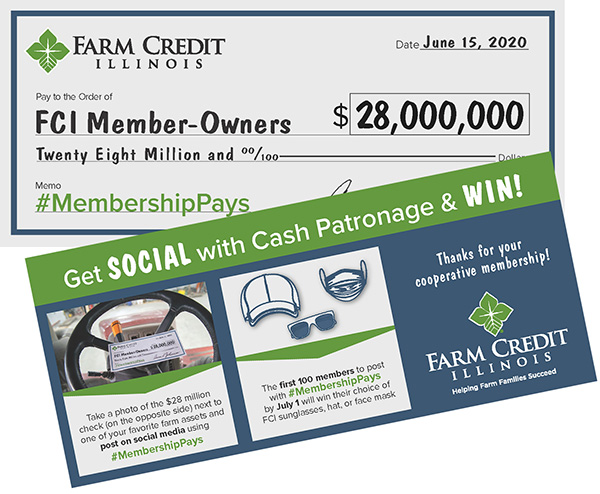 FCI Patronage Check Delivery is the Week of June 15, 2020
Celebrate with a photo of the $28 million check on one of your favorite farm assets
Share your creativity by taking a picture of the $28 million promotional patronage check (included in the envelope with the real check) in front of a favorite farm asset (machinery, growing crops, shed - are just a few examples). Patronage checks will be delivered by mail the week of June 15.


Post this image using #MembershipPays in your post on Facebook, Twitter, or Instagram. Don't forget to tag FCI using @farmcreditIL.


The first 100 members who complete steps 1-2 will win their choice of one of three prizes: FCI sunglasses, hat, or face mask.


The contest ends Wednesday July 1. Winners will be notified via social media shortly after.

Only FCI member-owners are eligible to win.
By entering the contest, you consent to your post and photo being used on Farm Credit Illinois' website, social media, e-blasts, and other forms of print and electronic advertising.
Learn More About the Cooperative Advantage of
Cash Patronage
at Farm Credit Illinois.