FreshRoots Brochure (pdf download)
2020 Directors Cup Honorees Named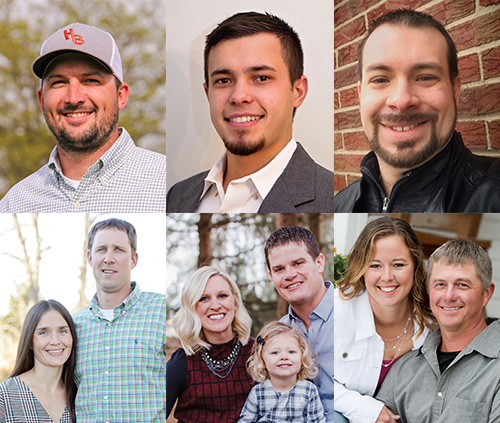 Congratulations to six young and beginning farmers and farmer couples from central and southern Illinois who were name 2020 FreshRoots Directors Cup honorees by Farm Credit Illinois.
Lending Assistance
PROGRAM QUALIFICATIONS
Young and beginning farmers up to age 40 years or in their first 10 years of farming are eligible for FreshRoots lending assistance.
The first 10 years of full-time farming is defined by the number of years an individual has filed a Schedule F tax form.
If jointly applying for a loan under the FreshRoots program, neither co-applicant can be both 41 years of age or more and have more than 10 years of full-time farming experience.
Provide annual fiscal year-end balance sheet throughout lending assistance eligibility.
PROGRAM FEATURES
Five-year discounted interest rate on up to $1 million farm real estate loans and $500,000 operating loans – to find out today's rate contact your local FCI office.
Relaxed lending standards
FCI will cover the cost of the FSA 1.5% guarantee fee on eligible farm real estate loans.
APPLICATION REQUIREMENTS
A completed fiscal year-end balance sheet, business plan, and cash flow statement, must be provided at each application.

Get started by accessing these downloadable templates:

Be sure and save these files to your local desktop or laptop computer before entering information and save again each time you open and fill out.
Learning Incentives
PROGRAM QUALIFICATIONS
Borrower-members up to age 40 or in their first 10 years of farming qualify for up to $2,000 in FreshRoots learning incentives.
Young and beginning farmers do not have to participate in FreshRoots lending assistance to earn learning incentives.
PROGRAM FEATURES
Up to $2,000 in stipends are available to individual and married-couple borrower-members who attend three learning workshops within two years.
Receive $1,000 for attending a local farm financial analysis workshop.
Earn two $500 stipends for attending any two Farm Credit College or Fielding Forward events.
For details on the next FCI educational workshop near you, visit www.farmcreditIL.com/learning.
DIRECTORS CUP AWARD
The FreshRoots Directors Cup presented by the Farm Credit Illinois Board of Directors celebrates young and beginning farmers committed to continuous learning and intentional living for a brighter future for their farm family business and community.
Individual and married-couple FreshRoots participants who are up to age 40 or in their first 10 years of farming on January 1 of the year they apply and who have been an FCI member-borrower for at least three years are eligible to apply.

Applicants will submit a formal application highlighting the personal growth and professional development they have pursued while participating in the FreshRoots program.

An independent committee will select the annual recipients.

Applications will be available online February 1 to April 1 annually.

Recipients receive a $5,000 cash award and a trophy.

Up to six Directors Cup recipients may be selected annually.