Take it to the Next Level: Farm Business Planning
November 2, 2018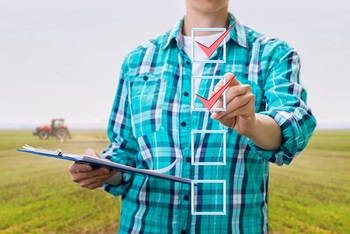 Planning for next year's crop often begins during the long hours in the cab harvesting each fall. As those plans take shape and a lender meeting is scheduled, farmers can take their planning to the next level by honing in on operational changes, asset and liability adjustments, and business structure outlook.
Operational Changes
Prepare a business plan to capture these operational changes and nail down thoughts on paper.
Inventory physical resources such as farms operated, buildings, machinery, and equipment. Plan to discuss resource needs and any existing gaps.
Know input costs of seed, fertilizer, chemicals, etc. to understand operating cost per acre – crucial to implementing an effective risk management plan. Consider how crop insurance options can bolster the business' marketing plan.
Maintain a written marketing plan for 2019 based on the farm's projected crop. Discuss how the 2018 marketing plan worked and plans for remaining grain inventories.
Understand the farm business' working capital burn rate, meaning how quickly the business is spending its cash on-hand. Be prepared to discuss action items with your lender to improve or capitalize on your position.
Asset and Liability Adjustments
Build a projected cash flow statement to show from where and when cash is expected to flow into the operation and how it will be spent.
Assess both sides of the balance sheet (assets and liabilities) and make sure the debt and terms are appropriate for the assets being financed. If an imbalance exists, ask your lender to help explore a better balance for the operation.
Re-evaluate family living budgets to changing incomes with all family members involved.
Business Structure Outlook
Document short and long-term goals including business, family, and personal objectives while ensuring each compliments the others.
Perform a SWOT analysis (strengths, weaknesses, opportunities, and threats) of the farm business, encouraging input from decision makers and those with a vested interest in the business.
Clarify planned changes like expansion or the creation of LLCs, trusts, or partnerships.
Taking your planning to the next level can help make those dreams from the cab come to fruition. Digging deeper into the farm's financials while collaborating with all farm stakeholders will provide more insight to confidently start 2019 on the right foot.
Share
Download