Farmland Values Relatively Stable
August 8, 2019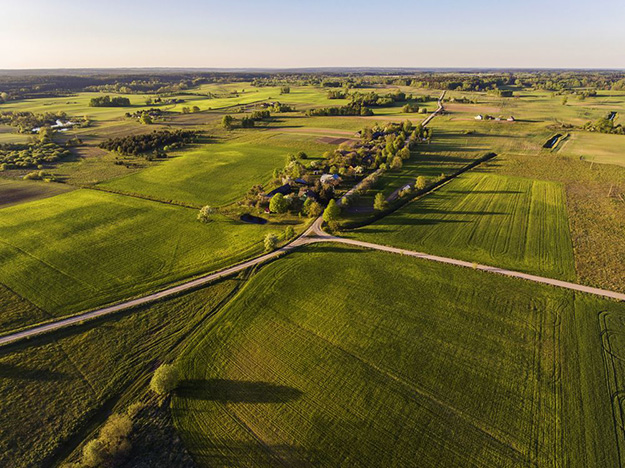 Download Farmland Values Analysis Report
Farmland values throughout Farm Credit Illinois' 60-county territory were relatively stable, with benchmark values increasing overall a mere 0.17% from last year, according to the 2019 annual study of 20 benchmark farms by the FCI appraisal team.

In the past four years, land values consecutively declined in the central and southern 60 counties of Illinois following the market peak in 2014. From 2015-2018, farmland values declined by 1.51%, 6.34%, 4.17%, and 3.53%, respectively.
The 2019 results showed nine of 20 benchmark farms with a small decline in value, two were unchanged, and nine slightly increased. Results showed noticeable variation across land classes, reinforcing the fact that agricultural real estate is a location-specific asset. When considering the benchmarks individually, the year-over-year percentage changes ranged from –5.45 to +8.74 percent.
"Land values remain stable after four years of moderate decline. Historically, there is a correlation between commodity market conditions and farmland values. However, the decline in values has not been as significant as expected, primarily due to a limited supply of land being sold," says Kent Reid , Farm Credit Illinois chief appraiser. "In any given year, less than 1% of land changes hands in Illinois."
The market expects land values to continue declining moderately in correlation with moderate-to-low commodity prices, trade issues, and highly variable 2019 crop conditions.
# # #
Farm Credit Illinois is a farmer owned and directed agricultural lending cooperative serving 10,000 farm families, agribusinesses, and rural landowners in the southern 60 counties of Illinois with competitive and flexible financing and crop insurance expertise. The Association manages a $4.34 billion loan portfolio, sells 1.2 million acres of crop insurance coverage, and employs 220 staff based in the Mahomet central office and 14 regional office locations. The Association delivered additional cooperative value by returning $20 million of cash patronage to member-owners in 2019. The U.S. Farm Credit System supports rural communities, farm families, and agriculture with reliable, consistent credit and financial services today and tomorrow.

All Farm Credit Illinois news releases are available at www.farmcreditIL.com/knowledge-center.
Share
Download