Get to Know Joe Meggison – Jacksonville's Newest Team Member
October 7, 2019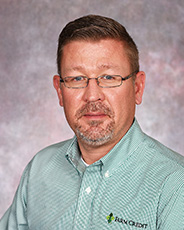 Joe Meggison of Ashland started Oct. 7, as a vice president of crop insurance in the Jacksonville regional office. The Jacksonville office serves farm families and rural landowners in Cass, Morgan, and Scott Counties.
What interested you in a career at FCI?
Farm Credit is dedicated to Helping Farm Families Succeed, preserving the farm from one generation to the next. I was drawn to FCI to help farmer-members accomplish their goals and for the Association's family atmosphere. Previously, I worked for Agridyne, LLC for 15 years as a Southwest regional sales manager, covering Arizona, New Mexico, Oklahoma, and Texas.
If you had to pick one job on the farm to do full-time, what would it be?
I grew up on a livestock farm in South Whitely, Ind., and graduated from Whitko High School. If I had to choose one job, it would be driving the combine at harvest time. It's always great to see the reward of the growing year come to its completion.
What's one thing people would be surprised to learn about you?
I received an associate's degree in agriculture science from Black Hawk College East before earning a bachelor's degree in agricultural science from Western Illinois University. After graduating from Western, I taught for a year at Black Hawk College East Campus. I am also a founding member of the Black Hawk East livestock judging alumni board.
Share
Download