Leverage the Purchasing Power of your RP Plan
January 18, 2019
It's one thing to understand your farm's break-even prices. It's another to find a futures price that matches or exceeds it when you have bushels to market. Stop missing opportunities and take control of your risk management plan with a revenue protection crop insurance policy.
Understanding a few key figures of your RP policy – which guarantees bushels and/or revenue – can help you forward market grain with confidence to increase revenue.
Example Insurance Details for a 2018 Corn Policy
Actual production history (APH) yield: 175 bushels per acre (bpa)
Coverage level: 80% Revenue Protection
Farmer-paid premium: $30 per acre
Calculating Your Guarantee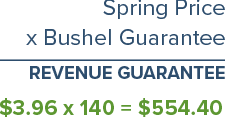 Spring price: $3.96 per bushel
Bushel guarantee: 140 bpa
Revenue guarantee: $554.40 per acre
Forward Marketing to Add Revenue
Leveraging your guarantee and forward marketing your APH of 175 bpa can add revenue.
25% sale in April with average December futures of $4.10 per bushel
25% sale in May with average December futures of $4.19 per bushel
Half of your APH (88 bpa) is now sold in the spring – before planting – with a December futures average of $4.15.
Understanding the purchasing power of your RP plan allows you to capitalize on marketing opportunities before you know what the growing season will bring. Crop insurance is the only risk management tool that still guarantees those spring-sold bushels if the crop-year isn't favorable.
Relying on Your Policy
Fast forward to harvest. December futures are $3.68 for the month of October and yields are strong with a final yield of 195 bpa. How would your revenues compare if you didn't forward market in the spring?

Scenario 1 provides an additional $41.36 per acre of expected revenue (not adjusted for basis). Making the most of your coverage allows you to maximize profitability in an environment of tight margins.
Visit with your local Farm Credit Illinois crop insurance agent today to learn more about how you can add revenue with an RP policy.