Get to Know John Peters – Sherman's Newest Team Member
June 10, 2019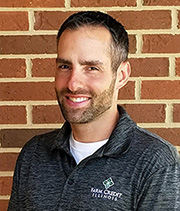 John Peters of Atlanta started as a vice president of lending in the Sherman regional office June 10. The Sherman office serves farm families and rural landowners in Logan, Menard, and Sangamon Counties.
Where did you work before joining FCI?
I worked for 11 years as a USDA-Farm Service Agency county executive director for Logan and DeWitt Counties. I was raised in Logan County and graduated from Lincoln Community High School before receiving a bachelor's degree in agribusiness markets and management from the University of Illinois at Urbana-Champaign.
Through this new role, I look forward to Helping Farm Families Succeed in the ever-changing agricultural industry.
What's one thing people would be surprised to learn about you?
My grandfather registered the first paten on continuous steel tube livestock fencing. So, it's no surprise I have a passion for cattle and would feed silage or hay everyday if I could.
Share
Download