Get to Know Avery Schrock – Decatur's Newest Team Member
June 3, 2019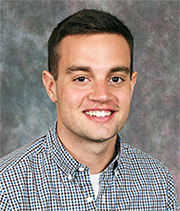 Avery Schrock of Arthur started June 3, as an assistant vice president of lending in the Decatur regional office. The Decatur office serves farm families and rural landowners in DeWitt, Macon, and Moultrie Counties.
What do you value most about living and working in Rural America?
I was raised in Douglas County and worked on a grain farm, where I learned the work ethic prevalent throughout Rural America. Working for FCI, I look forward to working alongside farmers as they strive to achieve their dreams while sustaining the legacy and longevity of their farming business.
From where did you graduate college?
I graduated from Arthur-Lovington Atwood-Hammond High School before receiving a bachelor's degree in agricultural consumer economics, concentrating in markets and management from the University of Illinois at Urbana-Champaign in May 2019.
Before joining the team full-time, I was an FCI intern for two years.
Share
Download