2019 Agriculture Scholars Celebrated at Luncheon
May 31, 2019
Twenty-eight High Schools Seniors Receive $2,000 to Pursue Ag Career
The class of 2019 Farm Credit agriculture scholars was recognized during a scholarship luncheon at Farm Credit Illinois (FCI) in Mahomet Thursday, May 30.
A total of $56,000 of scholarships were awarded to 28 high school seniors. Each scholar receives $2,000 from FCI to pursue a degree within the field of agriculture. Twenty-five of the students attended the recognition program.
This marks the sixteenth year of the Farm Credit agriculture scholarship program, which has awarded $456,000 to 357 students in central and southern Illinois since 2004. Scholarship selections are based on a combination of academic achievement, participation and leadership in school and community organizations, and the applicant's commitment to an agricultural career.
"Farm Credit Illinois is proud to invest in tomorrow's agricultural leaders," says Rod Stoll, vice president of marketplace engagement for FCI. "These scholars will bring their passion for agriculture into careers that shape the future of the industry and Rural America, in turn Helping Farm Families Succeed."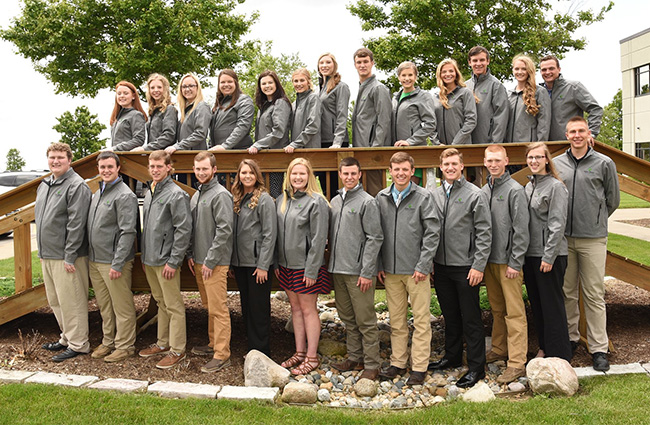 Pictured above from left to right: Back row: McKenzie Reagor of Karnak (Massac County); Molly Schempp of Atlanta (Logan County); Natalie Bonnell of Golconda (Pope County); Maria Brockamp of Morrisonville (Christian County); Elizabeth Kiselewski of Waltonville (Jefferson County); Makenna Green of Arthur (Douglas County); Ashley Hartman of Waterloo (Monroe County); Samuel Lueke of McLeansboro (Hamilton County); Emmalyn Walk of Neoga (Cumberland County); Hannah Carlock of Chandlerville (Cass County); Seth Kocher of Claremont (Richland County); Cassie Peters of Crescent City (Iroquois County); Jacob Uphoff of Mattoon (Coles County); Front row: Reece Davis of Medora (Macoupin County); Brodee McCormick of Athens (Menard County); Adam Day of Lovington (Moultrie County); Kinser Wargel of Clinton (DeWitt County); Alexis Carroll of Carrollton (Greene County); Carli Hoffman of Nashville (Washington County); Cody Knodle of Fillmore (Montgomery County); Dylan Janssen of Milford (Iroquois County); Lane Schilling of Okawville (Washington County); Adam Crites of Rantoul (Champaign County); Courtney Mosbacher of Prairie du Rocher (Monroe County); Charlie Hoene of Sigel (Shelby County)
Scholars not pictured: Cooper Block of Paris (Edgar County); Lukas Hadden of Jacksonville (Morgan County); Madison Michels of Noble (Richland County)
###
About Farm Credit Illinois
Farm Credit Illinois is a farmer owned and directed agricultural lending cooperative serving 10,000 farm families, agribusinesses, and rural landowners in the southern 60 counties of Illinois with competitive and flexible financing and crop insurance expertise. The Association manages a $4.34 billion loan portfolio, sells 1.2 million acres of crop insurance coverage, and employs 220 staff based in the Mahomet central office and 14 regional office locations. The Association is delivering additional cooperative value by returning $20 million of cash patronage to member-owners in 2019. The U.S. Farm Credit System supports rural communities, farm families, and agriculture with reliable, consistent credit and financial services today and tomorrow.
Share
Download