Get to Know Lynette Moyer – Watseka's Newest Team Member
May 13, 2019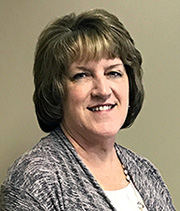 Lynette Moyer of Watseka began May 13, as a sales and service specialist in the Watseka regional office. The Watseka office serves farm families and rural landowners in Iroquois and northern Ford Counties.
What interested you in a career at FCI?
I was raised in in Iroquois County and graduated from Watseka Community High School before receiving a bachelor's degree in business administration from Illinois State University.
From there, I worked for 35 years as a category manager for Big R Stores. As I looked to continue my career in this rural community, Farm Credit stood out to me.
What do you value most about living and working in Rural America?
My family has owned an area business that works with and supports the farming community, so I have grown to know and appreciate this way of life and look forward to supporting farm families in this new role.
Share
Download