Get to Know Shirley Stolz – Paris' Newest Team Member
May 6, 2019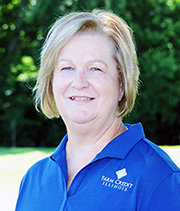 Shirley Stolz of Paris began May 6, as a sales and service specialist based out of the Paris regional office, serving farm families and rural landowners in Clark, Coles, and Edgar Counties.
What's your connection to Edgar County?
I was raised here and graduated from Paris High School. Today I live on a grain farm and frequently lend a hand. I even take vacation days to help with harvest, which I thoroughly enjoy. I've worked in Paris for more than 28 years – most recently spending 10 years as a senior accounting assistant for Cargill after 18 years with Farm Credit previously.
What do you think of when you hear Helping Farm Families Succeed?
It means FCI is helping to meet farmers' needs through operating, machinery, and real estate loans, which allow their businesses to grow for future generations.
Share
Download