Navigating Through Hardship to Find Success
November 12, 2019
Young farmers joining an established family business have a significant advantage – accessible wisdom from previous generations and years of records. But what happens when those gifts are suddenly gone? Ben Briggs of Christian County found himself as the sole proprietor of a more than 150-year old farm business and quickly had to take the reins in the middle of planting season.
When Ben joined the operation full-time in 2011, he and his father Bruce established a 10-year transition plan where Ben would slowly buy into the farm while taking on more responsibility – starting as a 50/50 partnership. Two years in, Bruce passed away unexpectedly following complications of a stroke. At that time, Ben was learning to run the operation while Bruce managed the business side of the farm paying employees, preparing taxes, and keeping farm records.
"When he passed away, I had a steep learning curve and a lot of sleepless nights going through his detailed pencil and paper records teaching myself how to do things," says Ben. "Then things got worse. Just a couple years later, the family farmhouse caught fire destroying years of hard records."
Ben remembers feeling hopeless without his father or almost any business documents. In search of solutions, Ben recalled advice from his father.
My father taught me to surround myself with people I trust and to constantly seek educational opportunities. It's easy to think you know it all, or the way you do something is the only right way. But my father knew this wasn't true in the ever-changing agriculture industry.
Ben has taken advantage of various courses and learning programs to hear different opinions and bring home new tools and strategies. After much trial and error, Ben created a record keeping system that works for him – electronic and regularly backed up in cloud storage.
"There's no perfect formula to be a successful farmer. If you can take time to train and customize available tools, you will spend less hours on busy work and more moments on things you don't generally have enough time for – marketing, analyzing your numbers, and spending time with family."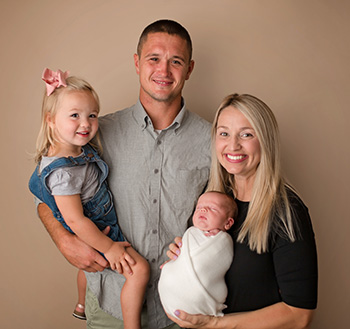 Since taking ownership of the farm six years ago, Ben has increased production, grown and maintained relationships with landlords, and educated himself on all sides of his business. Today he has a deep understanding of his farm's financial standing and annually tries to improve areas to conserve working capital while maintaining or improving yields. This keen awareness helps him make informed, strategic decisions.
Ben learned many business and life lessons by being forced to jump in feet first. While he wouldn't want other young farmers to experience the tragedies he endured, he does hope others learn the same lessons.
"All farm businesses should consider succession the moment a younger generation joins the operation. Accidents and unexpected health struggles happen quickly. If my father wasn't so forward-thinking, I wouldn't be farming today. Even though it's easy to get caught up in the day-to-day stressors of the job, I try to remember to take a step back and appreciate the life my family and I have built, following in his footsteps."
Share
Download