Education Yields Greater Profitability
November 12, 2019
Bob Schroeder's passion for continuing to learn about farming has helped him incorporate new practices and ideas on his corn and soybean fields in Champaign, McLean, and Piatt Counties. "One of my main business philosophies is never stop learning," points out Bob, who began farming in 2011 and works with his father and brother-in-law.
He uses what he learns to benefit his diverse operation. His family grows seed corn for Bayer and Pioneer, seed soybeans for Remington Seeds, non-GMO corn for Cargill, and yellow food grade corn for Anderson Grain. Bob resides in Mahomet with wife Katelin and their daughter.
The sixth-generation farmer says the most impactful professional development experience of his life was graduating from the Illinois Agricultural Leadership Program's Class of 2018. The 19-month program helped him expand his knowledge of agriculture. Highlights of his experiences include taking a business decision making seminar at the Kellogg School of Management at Northwestern University and traveling to Hong Kong, Taiwan, and Vietnam for an international study seminar.
"The other farmers in the program offered valuable advice on how their operations stay as profitable as possible," Bob says. "Maximizing revenue on every acre is at the heart of my business practices."
He also typically attends four farm profitability seminars across Illinois each year and relies on podcasts, farm magazines, and other resources. "My goal is to learn as much as I can about increasing grain profits."
Bob also has built a group of mentors and role models he can call or email. "You can ask them questions and hear about their successes and challenges," he notes. "You'll end up making more revenue by learning from those experts."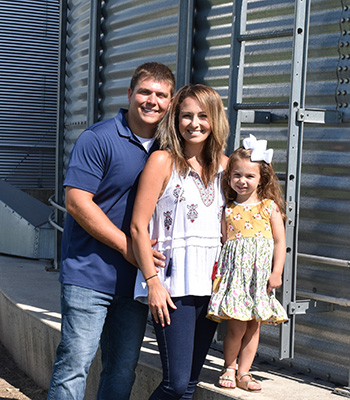 One practice that has helped him increase profits has been installing drainage tile in his family's and neighbors' fields. "During the past 10 years, we've installed more than 2,000 acres of drainage tile to keep excess water off the fields," Bob says.
The benefits of installing the tile include being able to plant earlier, increased yields, better soil health, and timely fertilizer applications. "We estimate pattern tile increases a field's value by up to $800 an acre," Bob reports.
Another way the farm is increasing yields and lowering costs is by using corn hybrids with fewer genetic traits. "Last year, our corn field with the least traits set a record bushels per acre for our family farm," Bob says. "And by using soybean hybrids with dicamba and Liberty traits to kill water hemp, the soybeans averaged another record for our operation."
Annually looking at each farm's results and challenges allows you to implement specific solutions. Constantly testing new ideas lets you see how they can impact the business' bottom line.
Bob annually reviews each farm's challenges and results and then implements customized solutions. "When you commit to planting test plots on your own farm, you must accept that one is usually going to yield less than the other – but it's an investment in the future. Understanding what works in our fields will make us more productive in years to come and positively impact the business's bottom line."