Get to Know Madeleine Waddock – Audit's Newest Team Member
November 4, 2019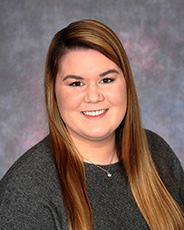 Madeleine Waddock of Monticello began Nov. 4, as an internal auditor based at the financial cooperative's central office in Mahomet.
What interested you in a career at FCI?
After receiving bachelor's and master's degrees in accounting from the University of Illinois at Urbana-Champaign, I became a Certified Public Accountant. From there, I worked for two years as an audit associate at RSM in Peoria, Ill.
FCI's reputation of being a progressive financial Association, coupled with its commitment to supporting agriculture and rural communities, led to me apply for the position.
What do you value most about living and working in Rural America?
I was raised in Piatt County and graduated from Monticello High School. The morals and values of rural communities align with those I was raised with and I enjoy the community and family atmosphere.
Share
Download