Get to Know Olivia Wilson – Loan Accounting's Newest Team Member
November 11, 2019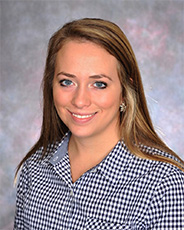 Olivia Wilson of Ogden began Nov. 11, as a loan accounting administrator in the central loan accounting department based at the financial cooperative's central office in Mahomet.
What do you value most about living and working in Rural America?
I value the peacefulness that comes with living and working in Rural America, along with the close-knit community feel throughout the agriculture industry. I was raised on my family's Champaign County grain and livestock farm and graduated from St. Joseph-Ogden High School. I'm also a member of the American Angus Association and 4-H House Sorority Alumni.
What interested you in a career at FCI?
FCI's culture of valuing its cooperative members and employees drew my attention. After receiving a bachelor's degree in agricultural and consumer economics from the University of Illinois at Urbana-Champaign, I worked for one year as an administrative assistant at Parks Livestock in Oakwood.
What's one thing people would be surprised to learn about you?
One goal I have is to get my CDL license.
Share
Download