Get to Know Steven Thursby – Jerseyville's Newest Team Member
October 18, 2019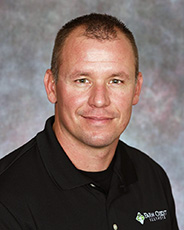 Steven Thursby of Hettick began Oct. 18, as a vice president of lending in the Jerseyville regional office. The Jerseyville office serves farm families and rural landowners in Calhoun, Greene, Jersey, and Macoupin Counties.
What do you value most about living and working in Rural America?
Being raised on my family's Macoupin County grain farm and serving in the Illinois Air National Guard from 2004-2010 – ending my career as an F-16 crew chief at the 183rd Wing in Springfield – I value the sense of community and strong work ethic held by those in Rural America.
Where did you attend college?
I received a bachelor's degree in agricultural science from Western Illinois University after graduating from Northwestern High School.
What does FCI's core purpose of Helping Farm Families Succeed mean to you?
To me, it means we are willing to go the extra distance to help a family succeed, willing to listen to the need, adapt to the changing environment, and educate members when needed. If our members are successful, everyone wins in this cooperative.
Prior to joining FCI, I worked for the USDA Farm Service Agency for almost 10 years – as a farm loan specialist in Springfield for more than four and as a farm loan officer for five at both the Pittsfield and Jerseyville locations.
Share
Download