Get to Know Stephanie Cunningham - Credit's Newest Team Member
April 6, 2020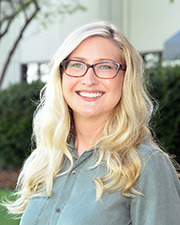 Stephanie Cunningham of Champaign began April 6, as a credit operations coordinator based at the financial cooperative's central office in Mahomet.
Where did you work before joining FCI?
I worked for five years as a contracts administrator at Davis-Houk Mechanical, Inc. in Urbana. Before that, I earned a bachelor's degree in advertising and a master's degree in business administration from the University of Illinois at Urbana-Champaign. I graduated from Unity High School.
What do you value most about living and working in Rural America?
Raised on my family's Champaign County grain farm, I learned the value hardworking individuals and families provide their communities. Working for FCI is rewarding because I can support those farm families.
What's one thing people would be surprised to learn about you?
I have quite an affinity for hip hop music.