Funk Celebrates 40-year Career
December 31, 2020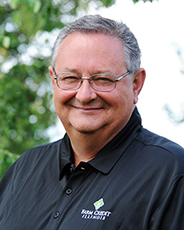 Brian Funk, of Paxton, is retiring from Farm Credit Illinois Dec. 31, after more than 40 years providing support to generations of farm families in central and southern Illinois. Funk is a credit officer in the credit services division based at the financial cooperative's Mahomet headquarters.
Funk was raised on his family's Ford County grain farm and received a bachelor's degree in agricultural industries from the University of Illinois at Urbana-Champaign. Throughout his 40 years of service, he worked in three locations including Watseka, Champaign, and Mahomet. Funk began his career as a loan officer and served as branch manager for 13 years before spending the past 25 years in credit.
Funk was a member of the Champaign County Farm Bureau Board and Credit Bureau of Champaign Board, where he also served as chairman. He and his wife Grace have one son – Eric.
# # #
Farm Credit Illinois is a farmer-owned and directed agricultural cooperative serving the southern 60 counties of Illinois with competitive and flexible financing, crop insurance expertise, and Rural 1st lending for country living. Farm Credit Illinois manages a $4.34 billion loan portfolio, sells 1.35 million acres of crop insurance coverage, and employs 220 staff based in the Mahomet headquarters and 14 regional office locations. The U.S. Farm Credit System supports rural communities, farm families, and agriculture with reliable, consistent credit and financial services today and tomorrow.