Sheley Celebrates 42-year Career
December 31, 2020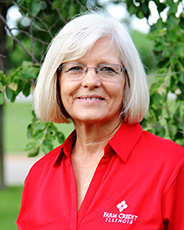 Margie Sheley, of Lincoln, is retiring from Farm Credit Illinois Dec. 31, after 42 years providing support to generations of farm families in central and
southern Illinois. Sheley is a loan servicing specialist in the credit services division based at the financial cooperative's Mahomet headquarters.
Sheley was raised on her family's Logan County grain and livestock farm and received a bachelor's degree in music education from Illinois Wesleyan University. Throughout her 42 years of service, she worked in two locations including Lincoln and Mahomet.
She and her husband Lynn have three children – Jake (Lauren) Sheley, Luke (Jessica) Sheley, and Annie (Daren) Kowieski – and three granddaughters – Violet, Ivy, and Landry Sheley.
# # #
Farm Credit Illinois is a farmer-owned and directed agricultural cooperative serving the southern 60 counties of Illinois with competitive and flexible financing, crop insurance expertise, and Rural 1st lending for country living. Farm Credit Illinois manages a $4.34 billion loan portfolio, sells 1.35 million acres of crop insurance coverage, and employs 220 staff based in the Mahomet headquarters and 14 regional office locations. The U.S. Farm Credit System supports rural communities, farm families, and agriculture with reliable, consistent credit and financial services today and tomorrow.