Get to Know Katie Duval – Finance's Newest Team Member
February 24, 2020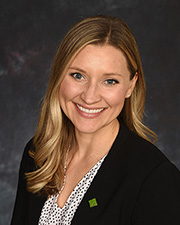 Katie Duval of St Joseph started Feb. 24, as a vice president of finance based at the financial cooperative's central office in Mahomet.
What drew you to FCI?
The 3 P's: People, Purpose, and Passion. I admire FCI's passion in carrying out its purpose of supporting members of our local communities through reliable, consistent credit. I was also attracted to its reputation for being a great place to work. I look forward to a long and rewarding career with Farm Credit Illinois.
Where did you work before joining FCI?
Before joining FCI, I worked for one year as vice president of accounting at Regency Multifamily and as an audit supervisor for five years at Martin Hood LLC. I received bachelor's and master's degrees in accounting from the University of Illinois at Urbana-Champaign after graduating from St. Joseph-Ogden High School.
I am also a licensed certified public accountant (CPA) and a member of the American Institute of CPAs and the Illinois CPA Society.
What do you value most about living and working in Rural America?
FCI's core purpose of Helping Farm Families Succeed is founded on genuine care for – and investment in – rural communities and agriculture in a way that feels philanthropic. I value the real ability to develop meaningful and long-lasting
Share
Download