Get to Know Brandon Duby - Watseka's Newest Vice President of Lending
July 21, 2020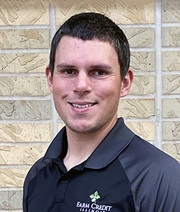 Brandon Duby of Gilman began July 21, as a vice president of lending in the Watseka regional office, serving farm families and rural landowners in Iroquois County.
What do you value most about living/working in Rural America?
I grew up on my family's Iroquois county grain and livestock farm and learned to love the peacefulness of small-town America and the strong sense of community that comes with it. After graduating from Donovan High School, I received a bachelor's degree in agribusiness from Illinois State University.
What does FCI's core purpose of Helping Farm Families Succeed mean to you?
To me it means doing everything I can to keep our members successful, not only through financing, but education and being a knowledgeable resource.
Before getting hired at FCI, I worked for three years as a member of the field staff team for FBFM in Watseka, five years as a credit analyst for ProPartners Financial in Bloomington, and served as a college intern for Compeer Financial in Normal.

Share
Download