Get to Know Lynn Grisham - Legal's Newest Policy & Procedure Administrator
July 27, 2020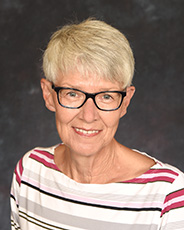 Lynn Grisham of Mahomet began July 27, as a policy and procedure administrator in the legal department based at the financial cooperative's central office in Mahomet.
What do you value most about living and working in Rural America?
I was raised on a grain and livestock farm in Piatt County and graduated from Mansfield High School, so I know first-hand how valuable life in the country can be. I appreciate knowing and respecting your neighbors and the support you feel from one another when life events occur. Additionally, I earned my strong work ethic from the farm.
What brought you to FCI?
FCI strives to build long-term relationships with farm families and assist them with lending and crop insurance options to help them be successful. This mission, plus the positive comments I heard from FCI employees interested me in a career here.
I previously worked for Busey Bank in Champaign for a total of 38 years, most recently 12 years as a retail credit manager and 14 years as a market and branch manager.
What's the most amazing adventure you've been on or hope to go on?
I would love to compete in The Amazing Race reality show.