Farm Credit's $100,000 Food Bank Gift Supports Covid-19 Relief
May 11, 2020
Farm Credit Illinois announced a $100,000 donation to Feeding Illinois food banks serving the southern 60 counties of Illinois today. The funds support food banks facing unprecedented challenges due to the COVID-19 pandemic.
The $100,000 gift is being shared among the four Feeding Illinois food banks supporting families and communities in the central and southern Illinois as follows: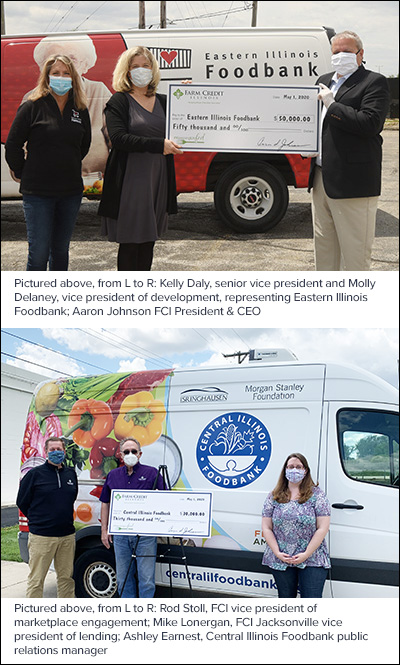 $50,000 to the Eastern Illinois Foodbank based in Urbana. The gift will be matched with an agriculture community challenge by Steven and Betsy Mills of Monticello. Combined with the match, the gift generates $100,000 of value for the Foodbank's "Harvest for Hunger" capital campaign.

$30,000 to the Central Illinois Foodbank based in Springfield.
$10,000 to the St. Louis Area Foodbank based in St. Louis, which serves the Metro East and surrounding Illinois counties.
$10,000 of the Tri-State Food Bank based in Evansville, Ind., which serves counties in southern Illinois.
"The rural communities we serve are experiencing significant hardships" says Eric Mosbey, FCI Board chair. "This gift supports the important work of the Feeding Illinois food bank network as a growing number of families depend on their services for food security."
"Even as the reliance on food banks increases, the overall food supply chain faces extraordinary challenges," notes Wes Durbin, FCI Board vice chair. "The enormous stress – mostly at the processor level – is causing fresh food to be disposed of or destroyed on the farm and can't get to those in need."
"The needs of our neighbors demand we grow, and this gift from Farm Credit Illinois could not come at a better time," says Jim Hires, Eastern Illinois Foodbank president & CEO. "Through the Mills Agricultural Match, Farm Credit's $50,000 donation will be doubled, which brings us closer to our vision of expansion. We are grateful for their gift because it will carry us into the future and ensure we are a vital resource in eastern Illinois for years to come."
"We are inspired by how we've seen people come together to ensure that families have meals during this difficult time," says Pam Molitoris, Central Illinois Foodbank executive director. "This generous donation gives us the opportunity to purchase nutritious products, like protein and dairy, from local and regional farmers who help feed our communities all year long, not just during times of uncertainty. We may not know what the future holds but, along with our partners, we will be there every step of the way."
"We are taking action to support our neighbors throughout rural Illinois," states Aaron Johnson, FCI president & CEO. "The food supply chain and families everywhere are strained due to COVID-19. By keeping a resilient attitude and supporting each other, we can overcome these challenges together."
Along with this gift to food banks, FCI is celebrating the frontline workers involved in the food supply chain

with a social media campaign. Every link – from farmer, to processor, trucker, grocer, food bank, and restaurant – is critical to getting food on tables and #KeepingUsFed.
# # #
Farm Credit Illinois is a farmer-owned and directed agricultural cooperative serving the southern 60 counties of Illinois with competitive and flexible financing, crop insurance expertise, and Rural 1st® lending for rural life. Farm Credit Illinois manages a $4.5 billion loan portfolio, sells 1.36 million acres of crop insurance coverage, and employs 230 staff based in the Mahomet headquarters and 14 regional office locations. The U.S. Farm Credit System supports rural communities, farm families, and agriculture with reliable, consistent credit and financial services today and tomorrow.