Farm Credit Illinois Passes Vision Milestone
October 7, 2020
Farm Credit Illinois exceeded the $5 billion mark of owned, managed, and collaborated volume as of July 31, 2020.
Five years ago, FCI launched Vision 2025 – a 10-year strategic plan. Several ambitious and tangible goals were set to help the cooperative achieve business success while delivering significance to member-borrowers and the 60-county marketplace. One significant Vision 2025 goal is to reach $7 billion of owned, managed, and collaborated volume by 2025 – which makes the $5 billion threshold an important milestone towards the 10-year goal.
Part of the cooperative's diverse portfolio include collaborations with other Farm Credit Associations in the System including AgDirect equipment loans, ProPartners input financing, Rural 1st® lending for rural life, Capital Markets Group agribusiness loans, and Agri-Access secondary market agricultural financing.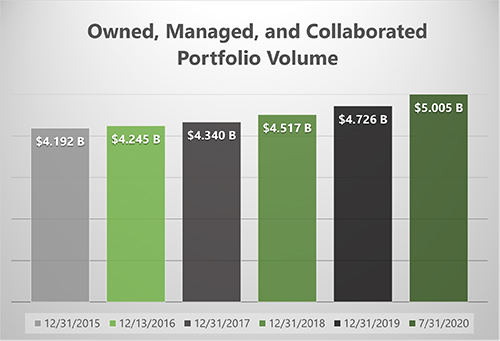 Coupled with growth in local farm loans, the income from these collaborations give FCI the ability to sustain and grow borrower-owners' value proposition through low upfront pricing and robust member programs.