Farm Credit Members Share $30 Million Cash Patronage
June 14, 2021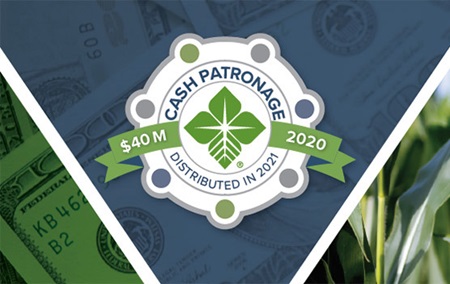 Nearly 8,000 Farm Credit Illinois borrowers receive their share of a $30 million cash patronage distribution this week. This is FCI's second patronage distribution in 2021, following a special $10 million preseason payment in March.
FCI distributed a total of $42.7 million of patronage in 2021 – including $2.7 million to qualified loans in the Capital Markets Group agribusiness loan collaboration. This represents 48.5% of the Association's 2020 net earnings returned to borrower-members this year.
In true cooperative spirit and demonstrating Member Economic Participation – a guiding principle of all cooperative businesses – patronage is distributed equitably based on the business value each borrower contributed to the cooperative in 2020.
All checks arrive the week of June 14-18 by mail. Cash patronage is a tribute to generations of farm family cooperative members. Together, FCI and farm families celebrate the legacy of disciplined management from borrowers and cooperative managers alike, which allows FCI to deliver additional cooperative value.
"As we navigated through pandemic challenges, FCI set a new earnings record in 2020 while delivering low upfront interest rates, converting more than 7,500 loans to lower rates, and eliminating most lender fees," says Eric Mosbey, FCI Board Chair. "The Board is grateful to be in a strong financial position, allowing us to return more than $40 million of last year's earnings back to member-borrowers as cash patronage. The cooperative business structure shined especially bright through the unexpected complexities of 2020."
"FCI has developed a long-term capital plan that includes continued annual patronage payments," says Aaron Johnson, FCI President & CEO. "The patronage tradition celebrates cooperative membership and demonstrates our mission of Helping Farm Families Succeed."
###
About Farm Credit Illinois
Farm Credit Illinois (FCI) is a farmer-owned and directed agricultural cooperative serving 16,000 farmer, rural landowner, and agribusiness voting stockholder members in the southern 60 counties of Illinois. Dedicated to Helping Farm Families Succeed, FCI provides competitive and flexible financing, crop insurance expertise, and Rural 1st® country life lending. FCI manages a $4.8 billion loan portfolio, sells 1.4 million acres of crop insurance coverage, and employs 244 staff based in the Mahomet headquarters and 14 regional office locations. The Association delivered additional cooperative value by returning $40 million of 2020 earnings as cash patronage to member-owners in 2021. The U.S. Farm Credit System supports rural communities, farm families, and agriculture with reliable, consistent credit and financial services today and tomorrow.