Meet the 2023 FreshRoots Directors Cup Honorees
August 8, 2023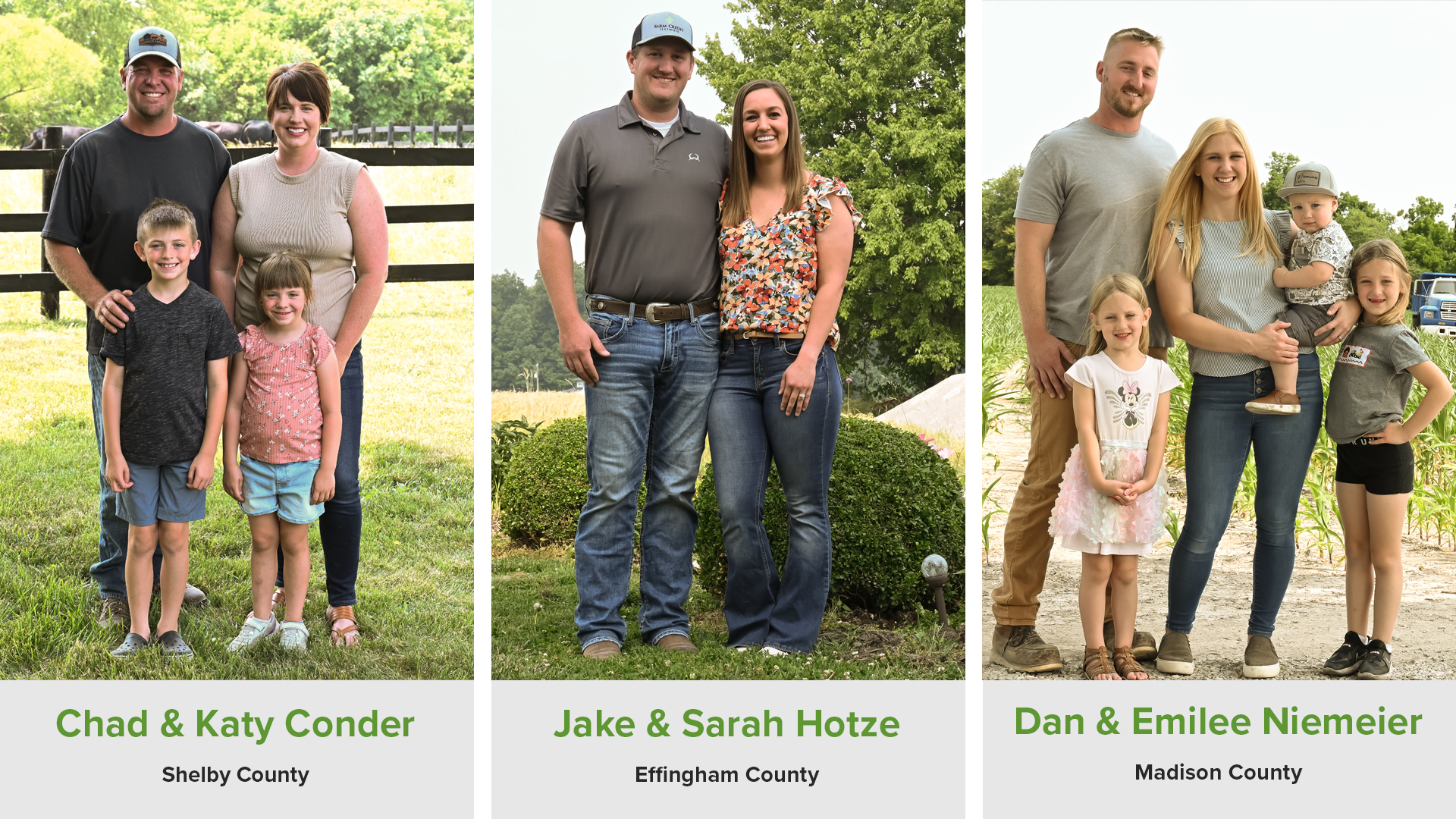 The Directors Cup presented by the Farm Credit Illinois cooperative board celebrates young and beginning farmers committed to continuous learning and intentional living for a brighter future for their farm family business and community.
These three young farming couples from central and southern Illinois are the 2023 FreshRoots Directors Cup honorees.
Dan & Emilee Niemeier

of Alhambra (Madison County) are third generation part-time farmers raising corn, soybeans, wheat, alfalfa, and cattle. Dan, 31, works as a territory manager for Farmers Business Network and Emilee, 30, works in a public school district as a speech-language pathologist. They began farming in 2017 and are part-owners with his father, grandfather, and brother.
"I've learned over the years that life is a juggling act and you have to decide daily which balls are made of glass and which are made of rubber, allowing you to catch them another time," says Dan Niemeier. "Balancing priorities allows us to find additional ways to support our family – now and generationally."
Jake & Sarah Hotze

of Teutopolis (Effingham County) are third generation farmers. Jake, 28, works full-time on the farm and Sarah, 27, is a self-employed marketer and business mentor. Jake began raising Holstein cattle in 2015 and has since added corn, soybeans, wheat, and hay to his operation. They are sole proprietors of their farm.
"We apply the mindset that goals and dreams take consistency and perseverance," says Sarah Hotze. "It hasn't always been easy as young farmers, but challenging ourselves helped us grow our farm to where it is today and where it can go in the future."
Chad & Katy Conder

of Stewardson (Shelby County) are third generation corn, soybean, and cattle farmers. Chad, 37, works on the farm full-time and Katy, 39, works as a school counselor. Chad began his farming career in 2004 alongside his father and plans to begin offering custom planting this spring.
"We are a forward-focused farm, constantly setting goals and holding one another accountable," notes Chad Conder. "In all areas of our lives, reflection, change, and growth are essential to success. We hope this mentality will provide opportunities for future generations."
Hear more from the recipients themselves:
Conder
Hotze
Niemeier
Cooperative members were selected by a panel of seven industry representatives– including one FCI board member – based on a combination of each applicant's unique farm beginnings, personal and business aspirations, and vision for their farm business and community. Honorees received $5,000 and a commemorative keepsake.
The Directors Cup award is part of the FreshRoots young and beginning farmers program, which provides lending assistance and learning incentives to farmers up to age 40 or in their first 10 years of farming.
"Many of today's young and beginning farmers proactively invest in their futures on and off the farm," says Steve Hettinger, FCI Board Chair and Champaign County farmer. "The Board of Directors celebrates these farm couples for their dedication to bettering themselves and their communities."
"FCI values personal growth and professional development for member-owners – especially young and beginning farmers," says Aaron Johnson, FCI president and CEO. "The FreshRoots Directors Cup is a tangible way the cooperative is Helping the Next Generation of Farm Families Succeed."
Applications are available online February 1 to April 1 annually.