A 37,000-Feet View
January 14, 2015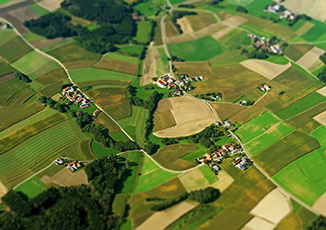 A considerable amount of my time is spent in an airplane at 37,000 feet (that's seven miles) above the cities, towns, and fields below. This vantage point provides unique perspectives on the landscape of agriculture. Similarly, interacting with thought leaders and stakeholders at all levels of business, government, and academics during my travels provides rich perspectives as well. Let's examine some of the views and perspectives that will influence your business model and lifestyle as you plan for 2015 and beyond.
The agriculture industry's economic prospects have literally been turned upside down.
The grain industry, which was a beneficiary of the great commodity super cycle, may be slipping into an extended period of moderation in prices, due in part to slowing global economies. The economies of emerging nations, such as Brazil, Russia, India, China, and South Africa – along with South Korea, Indonesia, Mexico, and Turkey – are slowing. While the weighted average gross domestic product (GDP) growth rate of these nations in the first decade of the century was in the high single digits, now weighted average GDP growth has fallen below 4 percent. The Federal Reserve fueled up to 40 percent of the commodity prices and asset growth, particularly in land, through low interest rates and a suppressed dollar that encouraged exports. The Fed now appears to be moving toward higher rates with a stronger dollar in tow. Mother Nature and her tricks in production regions of the world could be a wildcard on supply and inventory. The bottom line is that suppressed grain prices are impacting short run repayment ability and subsequent debt coverage ratios. If the duration of this part of the cycle is two to five years, expect a decline in liquidity and equity for grain producers – particularly if interest rates start to rise.
The paradigm has also shifted for the livestock industry. The economically robust grain industry created such an attraction of resources to the sector over an extended period of time that a vacuum in livestock numbers was created in the U.S and, more importantly, worldwide. Who would have dreamed of $27 per cwt for milk, $4.00 per pound for 500-pound beef heifers in western Nebraska, and hog prices in hog heaven for the pork industry? Some expect this trend to run for at least two years with more optimistic experts going out on a limb for a five-year reset. To throw a little cold water on these generous projections, past spikes in livestock prices in 1953, 1973, and 1979 came to an end abruptly with either demand shock created by oil or interest rates. Also, the worst decisions are frequently made in the best of economic times.
In the global economy, the euro sector and Japan are teetering on the brink of recession. Of course, emerging nations' economies, which fueled the ag and rural economies of the "flyover states" in the central U.S., are in a reset downward. The U.S. currently is the strongest of the world economic powers. A GDP growth rate of 3 percent, unemployment in the high 5 percent range, and inflation under 2 percent –combined with low interest rates – have been the economic cocktail for the Dow recently approaching 18,000, up from the mid-6,000 range within the past decade. Watch for the possibility of interest rates rising in mid-2015 if these positive economic factors persist. Of course, suppressed oil prices are a boost to both the general and agricultural economy on the expense side. This could be a short-term benefit initially; however, it will be interesting to see how Mr. Putin in Russia and the other oil-producing regions of the globe, as well as the U.S., adapt to lower price levels.
Longer-term, some of the trends that will impact your business model include technology and innovation.
Terms such as big data, robotics, automation, and artificial intelligence will be in the agricultural business headlines. The agriculture sector will demand high-quality talent and knowledge workers including management, employees, suppliers, and lenders. The concept of lifelong learning and continuous improvement will be in the strategic vocabulary of producers and agribusiness people.
The millennial generation, comprised of individuals less than 34 years of age, will be a new focus in business and will bring new energy to the agricultural field. Whereas the baby boomers had their first job at the average age of 12, the new millennial generation's first employment is at approximately 22 years of age. Millennials in the agriculture industry are very often entrepreneurial multitaskers who seek a balance between work and lifestyle.
Consumers and cash will be king looking toward 2025. U.S. and international consumers' desire to know the origin of their food, fiber and energy will create a fragmented retail and wholesale marketplace for agricultural products and services. Volatility will create tremendous opportunities for success or failure so liquidity and cash will continue to be important in a heavy fixed asset industry such as agriculture.
The view from seven miles up is very optimistic, but challenging. Taking time to see the bigger picture and broaden your perspective is an exercise which reinforces the need for businesses to constantly evolve, adapting to changes in trends and cycles that will be more abrupt in a world where there may be an economic surprise around every corner.