Find Your Crop Insurance Combination
January 22, 2021
Crop Insurance Options Customized for Your Farm
There are countless combinations of coverage in crop insurance. Finding which options provide the greatest risk mitigation – while balancing a budget – takes time and an understanding of a family's farming business.
With Revenue Protection (RP) coverage functioning as the backbone investment for most Illinois farm risk plans, supplemental protection options fill in coverage gaps. While add-ons increase premiums, they also reduce risk exposure and provide greater peace of mind. When farm businesses make decisions this year, they should consider which crop insurance options to invest in.
Supplemental Options
Supplemental options adding protection to their baseline MPCI policy, such as Revenue Protection, include fire, crop hail, wind, prevent planting buy-up, replant and early planting, banded and pricing products, and – new for 2021 – quality loss and enhanced coverage option endorsements.
Many of these additional options pay indemnities when an underlying MPCI policy wouldn't – such as when a price interval is greater than the spring price. Many pay at the time of loss – as opposed to after harvest when a yield loss is realized – such as after a wind, hail, prevent plant, or fire event. Most importantly, these options provide peace of mind to farmers experimenting with new practices or leveraging marketing opportunities.
On-farm Application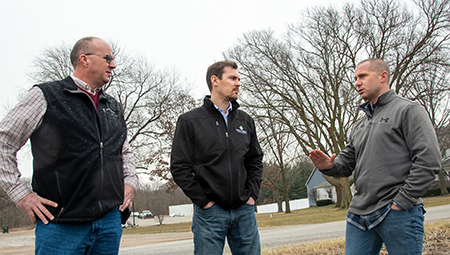 Grant Noland, who farms in Macon and Christian Counties, purchased an early planting endorsement in 2020. When spring conditions were ideal before the initial plant date, his additional coverage provided confidence to plant soybeans early and paid dividends at harvest.
"It's critical farmers understand their options. The early planting election reaffirmed our decision, knowing we had a financial backstop to protect us," Noland notes. "The supplemental option let us confidently make management and marketing decisions, which in turn allow us to be more successful."
Farmers can count on FCI agents to find the appropriate mix of products to fit their farm's unique risk management plan and budget. The crop insurance agents don't work for commission, so farmers can rest easy knowing their recommendations are based on what's right for each farm – not their personal bottom line.
"When evaluating supplemental options, we sat down with our Farm Credit crop insurance agent to discuss our needs," says Noland. "It's important for your agent to understand your business and operational goals and that's been clearly defined in our relationship with Farm Credit."
Find the right combination of plans for your 2021 crop. Talk to your local agent