Customize Crop Insurance with FCI
November 11, 2022
Review & Refresh Your Coverage
There's plenty on your to-do list before the next crop year, so let Farm Credit Illinois crop insurance agents review and tailor your coverage. Local agents work to understand your farm and make recommendations aligned with your goals. FCI crop insurance agents don't work for commission, so you can rest assured they are looking out for your best interest.
Contact Your FCI Crop Insurance Agent
All you need for a complimentary crop insurance policy review is your most recent 10-year actual production history (APH), schedule of insurance, or FSA-578 form. Whether you're looking to get the most out of your baseline multi-peril crop insurance (MPCI) policy or seeking a supplemental option to protect your input investments, FCI can find a unique mix of products that fit your risk management plan and budget.
Functioning as the backbone investment for most Illinois farms, MPCI policies are available at varying coverage levels and on a county and/or individual basis. In addition, unit structure must also be elected. Unit structure can impact your premium and how the policy works on your farm in the event of a claim.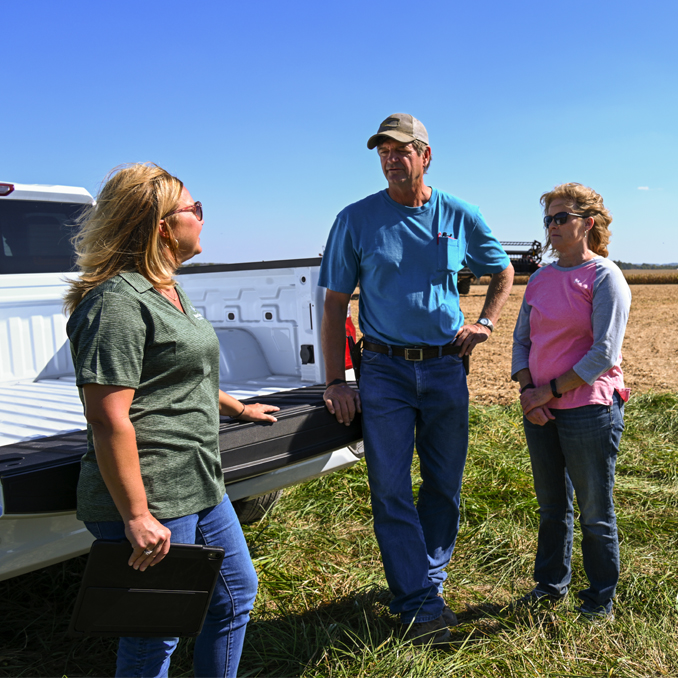 Terry Neff, Illinois farmer, worked with his Farm Credit Illinois crop insurance agent to discover that Enterprise Units were most ideal for his farm.
"Each farm is its own puzzle, and we make recommendations based on that operation's unique risk tolerance and make-up," says Heather Greenwalt, FCI crop agent. "In Terry's case, setting up his policy using Enterprise Units allowed him to elect higher coverage while enhancing his policy with supplemental products for a similar premium amount."
"Working with Farm Credit is easy," Terry notes. "Heather personalizes my coverage because she knows me and my farm. And when new options become available, she shares the information with me even if she doesn't recommend it. Heather is straightforward and helps me make informed decisions."
In addition to MPCI, approved insurance providers (AIPs) offer supplemental options. These additional endorsements offer enhanced coverage for perils including fire, hail, wind, greensnap, replant, early planting, and extra harvest expenses. Also available are banded and pricing products that may protect more of your investment in the growing crop. Unlike many independent agents, FCI works with four insurance companies to provide the best combination of policies to fit each operation.
"We wanted to cover a wider range of weather events and bought wind and greensnap supplemental options," Terry states. "I can sleep at night without worrying about one weather event wiping us out. The risk in farming is so high, if your crop is wiped out it is devastating financially. I'd farm without fertilizer before I'd farm without insurance."
Visit with your local FCI crop insurance agent for a complimentary policy review and refresh your 2023 crop coverage.