Farm Loans that Pay
June 19, 2023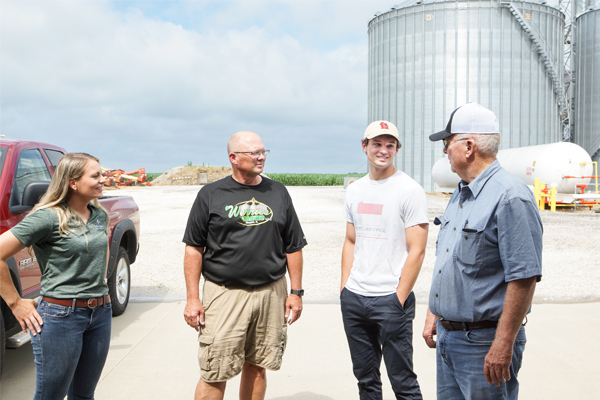 Farm Loans that Pay
Is market volatility causing you to shop around for lenders? While interest rates may be on the top of your mind, it's also important to consider fees and flexibility when looking for your next loan. Find a lender who will customize your farm loans to your needs and continue working for you after closing.
As a farmer-owned cooperative, Farm Credit Illinois (FCI) understands every dollar counts. That's why we offer low upfront rates, flexible loan terms and options, no lender fees* at closing, fee-free repricings, and annual cash patronage to retroactively reduce rates.
Customized & Competitive Loan Terms
Whether you're financing a new land purchase, refinancing a current cattle facility loan, or looking for an operating line of credit, FCI has the products your farm needs to succeed. We provide rate, term, and payment schedule options that correlate with your seasonal cash flow.
"We have a complicated business structure," says Dean Werries, Illinois farmer. "Farm Credit has been accommodating and provided information to make an educated decision on how to structure a loan that would work for us. They're truly looking out for our best interest."
"Each farm business is unique, and we admire that," states Jessica Hoelting, FCI loan officer. "Getting to know each member-owner and their farm's structure helps us make sure the loan terms we set align with their goals."
Patronage Lowers Interest Rates Further
FCI annually returns a portion of our net earnings to borrowers through cash patronage. The cooperative model means we are motivated to maximize the value cooperative members receive, not profits for investors like other financial institutions.
The cooperative distributed $40 million in June 2023, representing 43.4% of 2022 net earnings. This lowered the effective interest rate of 90% of members' 2022 loans by at least: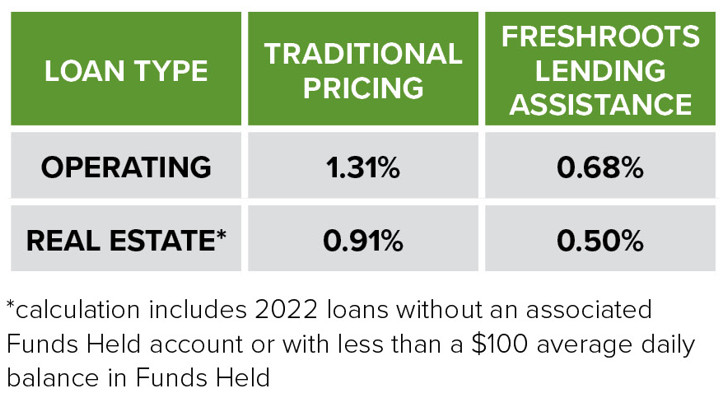 Our rates consistently rank in the lowest 10% of the entire Farm Credit System and compete with other financial institutions throughout central and southern Illinois – making the effective interest rate reduction delivered by cash patronage even more impactful.
"Farm Credit members can tangibly see how cash patronage, coupled with low upfront interest rates, makes a substantial impact on their bottoms lines," says Jessica.
Members can pencil in patronage annually even with today's financial market pressures. You can credit this to the Board of Directors' long-term capital management plan that prioritizes low upfront interest rates and consistent patronage payouts while managing capital conservatively.
"The first time we received patronage, it was a nice surprise," remembers Werries. "But once it sank in that this really is lowering our effective interest rate and an annual program, we knew we could start factoring that into our decisions."
No Lender Fees at Closing
Fees can greatly impact how much you pay for a loan. FCI agricultural loan borrowers* are not charged:
Origination fees – we do the processing and underwriting, so let us pay for it
Traditional loan appraisals – our in-house appraisal team delivers complimentary services
UCC filings – we cover the cost of submitting UCC financing statements with the state
By waiving these fees, cooperative member-borrowers save up to 1.5% of the loan amount. Plus, there's no penalty if you decide to pay off early.
Fee-free Repricings
When the financial markets cycle and lower interest rates return, most FCI loans are eligible for this money-saving perk at no cost. The Association repriced more than 12,300 loans for combined annualized member savings in excess of $16.3 million from Jan. 2019-June 2022.
As you shop for agricultural financing, consider the cooperative advantage of doing business with Farm Credit Illinois, where we deliver farm loans that pay.
*does not apply to leases or AgDirect equipment or Rural 1st country life loans